How to choose the best online CRM software
These days, it is hard to imagine a successful organization without a professional CRM system in place. More and more business owners agree that a good CRM platform is a must for every growing business no matter its size or sector.
If chosen and implemented correctly, CRM can help you streamline even the most complex business processes without putting in too much effort. Online CRM has proven its effectiveness to thousands of organizations and remains the number one tool for sales reps all over the world.
Online CRM is good at keeping track of all your interactions with both existing and potential clients. With its help, you will stay in control of your marketing, sales and service effort. Powerful CRM is aimed at improving communication not only with your clients but between your sales and marketing teams as well.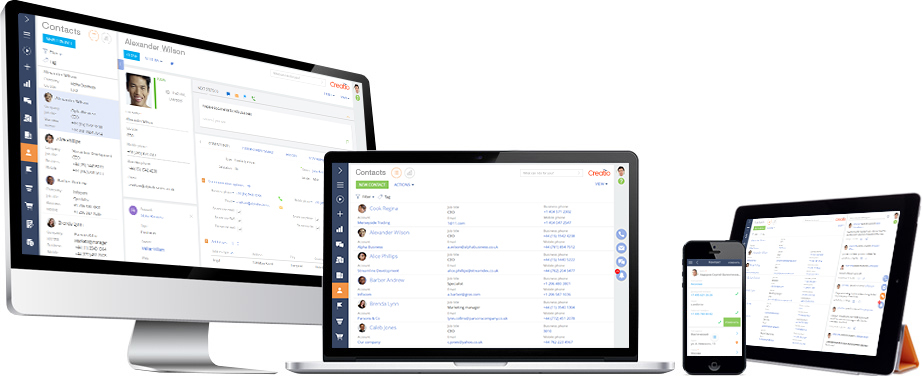 By maintaining sustainable relationships with your customers and colleagues there is a higher chance for your organization to sell more products and services as well as keeping more customers.
Even though today the choice for the best online CRM solutions is wider than ever, selecting the one for your organization still remains a challenging task. As the saying goes, having too many options make it harder to choose. This is because when people make decisions, they are motivated not only by the opportunity for gain, but also by the fear of loss.
And when it comes to selecting the right CRM for your business, the difficulty lies not only in the fact that there are many solutions and technologies to choose from – you also have to consider deployment and customization options, cost, scalability, and business value.
As you can see, choosing the best online CRM solution stills takes some time. Fortunately, our step-by-step guide to selecting the best CRM software is here for you to make your search easier.
Know more about pricing of Creatio CRM software and implement the best business practices today
Features to look for when selecting a new online CRM system
There is a number of factors to be considered when buying a new CRM platform. In most cases, functionality, features, support and pricing are the central aspects of the decision-making process. Let us go straight to the top features of a powerful online CRM. Some of the most crucial ones are listed below:
Account and Contact Management

Having a 360-degree view of your customers, you can predict their buying behavior and preferences. Account and contact management will help you gather vital customer data and maintain your marketing strategies when introducing new products or services.

Lead Management

Tracking changes in your sales pipeline will help you make the right management decisions. Lead management is also useful for determining the best customers to follow up with based upon demographic and psychographic factors. Lead management feature allows you to work smarter, not harder, which is especially crucial for acquiring quality leads.

Sales Forecasting

Forecasting feature enables users to determine whether their results are actually on par with their efforts. This data can also be used to determine where you need to direct further efforts.

Workflow management

Optimizing workflows is another good way you can increase your organization's efficiency. CRMs can facilitate optimization by automating processes like data collection and analysis, marketing campaigns, and other tasks that were earlier managed manually. They also often offer reporting and analytics to help users identify problem areas in order to improve them.

Customization Options

The more customization tools, the more CRM flexibility is available. Make sure your online CRM has the capability to adapt to and integrate with existing software used by your organization. Incorporating desktop productivity tools is also highly advisable. Flexible software that can change when you need it to should be your top priority.
Creatio as the best online CRM system
Creatio is the most agile CRM platform for midsize and large enterprises to accelerate sales, marketing, service and operations. The software comes complete with all the listed above and much more. What makes Creatio stand apart from all the other online CRM vendors is the fact that it combines both exceptional CRM and BPM capabilities.
Creatio users can leverage out-of-the-box processes that are based on the best practices in marketing, sales and service. Additionally, users can build custom business processes to meet their organizations' specific business requirements and manage them accordingly no matter whether those processes are structured or unstructured. Below you can check out other worthy benefits of Creatio CRM.
1
All Creatio products can be deployed cloud and on-site. Depending on your company's policy, you can choose the deployment that better suits your specific business needs.
2
With Creatio, you can enjoy a complete set of tools to fine tune an application, such as a wizard to add objects, fields and links. An integrated component library to customize without coding and processes to change business logic are also at your disposal. Furthermore, the software features Open Configuration so anything can be changed: developers can rebuild, tweak, and extend Creatio CRM modules, business logic and functionality using the latest cloud-based technologies.
3
Engaging interface of Creatio system is another reason to implement the software. Creatio applications have an intuitive interface and a social look and feel, which makes working with the software easy and ensures an increase in overall user adoption rates. The system provides a consistent user experience on all devices: phone, tablet, desktop, and laptop.
Want to accelerate your business?
Creatio CRM is a software aimed at taking your business performance to the next level.
The mission of Creatio is to help companies ACCELERATE!
Creatio is a global business software company leading in the space of business process automation and CRM. The company has been highly recognized as a market leader by key industry analysts. Its intelligent platform accelerates sales, marketing, service and operations for thousands of customers and hundreds of partners worldwide. 
Creatio has been widely recognized by key industry analysts, receiving multiple awards.