Accelerate business processes of any complexity and easily build applications for your specific business needs with business process management software from Creatio studio enterprise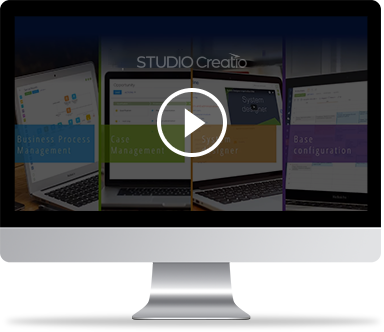 Studio Creatio, enterprise edition
Studio Creatio, enterprise edition is an intelligent BPM and low-code platform with out-of-the-box solutions and templates, which enables businesses from various industries, as well as system integrators and software developers, to create custom applications exactly for their specific business needs.
Key benefits of our BPM software
Implement intelligent technologies that help users accelerate routine operations
Exploit preconfigured solutions for marketing, sales and service to accelerate desired business results
Effortlessly build custom apps with Creatio platform's low-code development capabilities
Empower your company with an intelligent low-code BPM software to accelerate ongoing transformation and win the battle for a digitally native customer
Customer reviews
As the fastest growing airline in the region, we need technology that supports our strategy of constant acceleration.
Creatio helps us transform and grow rapidly, servicing our customers at jet speed!
Achmad Rouhan
Vide President of IT, Citilink
Thanks to its flexible platform, Creatio has provided Namu the ability to adapt processes as business needs develop. If I get a request from the executive team asking for a change in processes immediately, I can do it in 10 min without disrupting the day to day functions of the employees.
Daniel Mayers
Process Specialist, NAMU Travel Group
View all customers