Accelerate business processes of any complexity and easily build applications for your specific business needs with business process management software from Creatio studio enterprise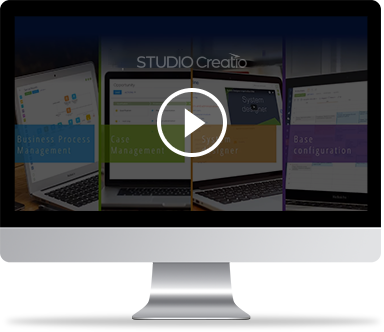 Studio Creatio, enterprise edition
Studio Creatio, enterprise edition is an intelligent BPM and low-code platform with out-of-the-box solutions and templates, which enables businesses from various industries, as well as system integrators and software developers, to create custom applications exactly for their specific business needs.
Key benefits of our BPM software
Implement intelligent technologies that help users accelerate routine operations
Exploit preconfigured solutions for marketing, sales and service to accelerate desired business results
Effortlessly build custom apps with Creatio platform's low-code development capabilities
Empower your company with an intelligent low-code BPM software to accelerate ongoing transformation and win the battle for a digitally native customer
Customer reviews
As the fastest growing airline in the region, we need technology that supports our strategy of constant acceleration.
Creatio helps us transform and grow rapidly, servicing our customers at jet speed!
Achmad Rouhan
Vide President of IT, Citilink
Thanks to its flexible platform, Creatio has provided Namu the ability to adapt processes as business needs develop. If I get a request from the executive team asking for a change in processes immediately, I can do it in 10 min without disrupting the day to day functions of the employees.
Daniel Mayers
Process Specialist, NAMU Travel Group
View all customers
Creatio was named a Leader in The Forrester Wave™:
CRM Suites for Midsize Organizations, 2016.
In addition, Creatio has been recognized as a Strong Performer
in The Forrester Wave™: Sales Force Automation Solutions, 2017,
The Forrester Wave™: Lead-To-Revenue Management Platform Vendors, 2016;
The Forrester Wave™: Customer Service Solutions For Midsize Teams, 2017;
The Forrester Wave™: Dynamic Case Management, Q1 2018
and The Forrester Wave™: Digital Process Automation for Wide Deployments, Q1 2019.
Creatio has been named a Challenger in the Gartner Magic Quadrant for Sales Force Automation, 2018, 2017, 2016 and the Gartner Magic Quadrant for CRM Lead Management, 2017, 2016; recognized in the Gartner Magic Quadrant for the CRM Customer Engagement Center, 2018, 2017, 2016, 2015, included into the Gartner Magic Quadrant for Intelligent Business Process Management Suites, 2017 and Gartner Magic Quadrant for Enterprise High-Productivity Application Platform as a Service, 2018.
Nucleus Research consecutively positioned Creatio in the Leaders Quadrant of the Nucleus CRM Technology Value Matrix 1H 2018 for its unprecedented agility to modify processes on the fly.
Ovum, one of the leading global technology research and advisory firms worldwide, has Creatio named among the world's top 10 CRM vendors in latest Ovum CRM Decision Matrix. Creatio has been recognized for its process-centric approach and intuitive platform.
CRM Magazine, the leading publication of the industry, recognized Creatio as a Leader in the Midmarket CRM Suite and Sales Force Automation categories, as well as named the One to Watch in the Enterprise CRM Suite in the CRM Market Awards 2018. This is the fourth year in a row that Creatio made it onto the leaderboard in the Midmarket CRM Suite category, with superb scores all around.
Creatio has been honored as Gold Stevie® Award Winner for the Best Relationship Management Solution of the Year in the 11th Annual International Business Awards. Winners were selected from over 3,500 nominations; Creatio was named the winner of a Gold Stevie® Award in the Digital Process Automation Solution category in The 17th Annual American Business Awards®. Winners were selected from over 3,800 nominations.
In 2015 for the second time in a row Creatio is selected as ISM Top 15 CRM Award winner by, ISM Inc., Customer-Centric Strategic Advisors. The company is positioned as a leader in the fast-paced CRM industry.
Creatio received a 2015 CRN® Enterprise App Award for its Creatio mobile CRM application. Creatio's mobile app was selected by a CRN editorial panel based on a combination of critical factors including functionality; suitability to task; ease of use; innovation; and potential value to solution providers, their customers and the market in general.
Creatio has been named as Leader in CRM Software and Business Process Management Grid® Reports by G2 Crowd, Summer 2018.
Creatio has been recognized as a winner in the CRM Watchlist 2019 award
Studio Creatio, enterprise edition
The system is available in two
deployment options
– Cloud and On-site
Ready to get started?
Thousands of customers worldwide use Creatio
to accelerate their business processesl.
Try it free