Surpass Your Competitors with Business Process Modeling
Business procedures are intangible so it is difficult to observe and organize them. If you want to work with procedures, you have to work on intangible procedures to transform them into progression models. This whole activity is regarded as modeling.
A typical process model can represent procedures of the real-world, but a visual model defines everything through a diagram. Process diagrams allow you to manage process activities of your business through analysis, observation, and representation.
Explore the Concept of Business Process Modeling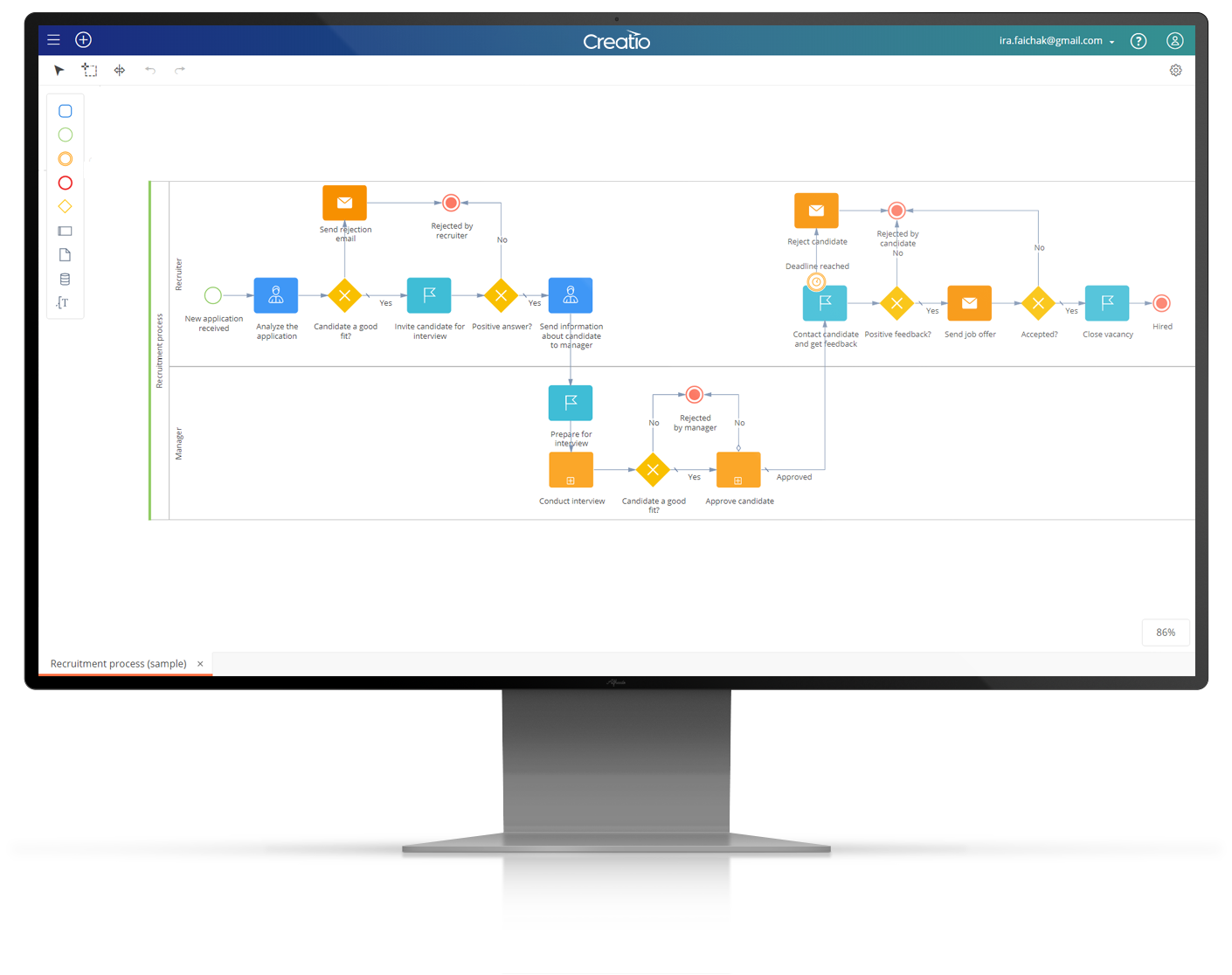 The graphical demonstration of your business workflows or procedures can be easy with business process modeling. It allows you to identify potential improvements. You can get the advantage of data-flow diagram or flowchart.
With business process (BP) modeling, you can map two different states, such as the current state of procedure and future status after making improvements or changes. BP modeling is interchangeable with procedure mapping of a business. These allow you in the graphic representation of the procedure to identify potential improvements or weaknesses or distinction between two.
The mapping for Business Procedure: dealings with low-level and high-level mapping. i.e., it may be a generic representation of your procedure, without elaborating anything or the things can be opposite.
Business process modeling can deal with low-level procedure maps and bring improvement in the basic procedure. This concept is useful because a graphical representation is always good to understand a procedure for its right implementation. For right implementation, BP modeling can be a good initiative.
If you need customized and faster solution to increase satisfaction of customer, you must choose a reliable business process modeling software. It will increase the productivity of your workforce.
Boost your marketing, sales and service performance with Creatio!
Management of Business Process Modeling (BPM)
It is a practice of consistent process improvement and re-evaluation. It is similar to business process reengineering and business process improvement. The business process improvement is consistent.
Business Procedure Improvement

It is an essential part of BPM for improvement, analysis, and mapping of a procedure.

Business Procedure Reengineering

Business procedure reengineering is similar to business procedure improvement with only one difference that you can change the procedure. BPR deals with drastic changes in the process like incorporating technology to entirely replace the method of work.
Benefits Of Business Process Modeling Software
The business process modeling platform can be helpful with introspection. You can get deeper understanding of the procedure and functioning of your business. There are numerous benefits of business process modeling:
Improve Efficiency

BP modeling allows you to improve your business procedures. You can find different methods to improve the work procedures to increase your output, productivity profits and efficiency.

Enforce Standardization and Best-practices

Business process modeling allows you to run your big organization efficiently. Creating a perfect design can make it easy for everyone to understand the whole procedure.

Process Agility

Business process modeling allows you to run your big organization efficiently. Creating a perfect design can make it easy for everyone to understand the whole procedure.

Transparency

Every person in the organization will be aware of the work process, operations, and goals. It may lead to accountability to increase the transparency of business.
Techniques of Business Process Modeling
BP modeling is possible through different methods. Over 12 techniques are available, but we are going to mention three favorite techniques.
Process Flowcharts
These are widely used business process modeling tools. This technique can make this work self-explanatory and you can map this procedure step-by-step. You can follow this procedure as per your convenience and main idea. You can create a flowchart with software for workflow management, flowchart software and pen and paper.
Business Procedure Model & Notation (BPMN)
BPMN is a standard of open-industry for business process modeling. It was designed by business procedure management initiative. It is a standardized procedure for convenient flowchart mapping. This flowchart can easily define procedures and objectives by methodology instead of individual mapping.
You can accurately follow the flowcharts to carry out BPMN. You can use different elements of the graph in BPMN methodology instead of choosing your preferences.
Functionality of Business Process Modeling
For business process modeling tools, there can't be a suitable size for every solution. Finally, it depends on your objectives and goals. If you want process re-engineering or improvement, you must follow these three steps.
1
Use any of the business process modeling techniques to start working on this procedure.
2
You have to find out the efficiency of procedure. It is essential to explore if the procedure is efficient and meeting your operational goals. Make sure to find out a step in this procedure that is completely wasteful.
3
You will need an improved process based on your essential findings and put these finding into practice.
Implementation of a new procedure is essential. It is recommended to utilize business process modeling as an essential part of BPM (business process modeling).
BPM is designed to facilitate the mechanization of repetitive components in regular workflows. You can process improvements like the elimination of terminated steps, the introduction of corresponding processing and removal of bottlenecks.
With this improvement, employees can spend more time on different activities like support function. It will decrease waste and increase your productivity.
Visibility of business procedures can be helpful to focus on inefficiencies. BPM provides companies with opportunities to work efficiency and save their essential resources. BPM helps you to create monitored, executed and better-designed processes that may be helpful to decrease the hazard of fraud.
Organizations should have compliance with the regulations of industry. Business process modeling ensures organizations to quickly implement regulatory necessities. It proves helpful to prevent delays and fines in compliances. After adopting BPM, you can assimilate compliance in the procedure life cycle. It may imply that organizations procedure will become visible and transparent to employees.
The mission of Creatio is to help companies ACCELERATE!
Creatio is a global business software company leading in the space of business process automation and CRM. The company has been highly recognized as a market leader by key industry analysts. Its intelligent platform accelerates sales, marketing, service and operations for thousands of customers and hundreds of partners worldwide.
Creatio has been widely recognized by key industry analysts, receiving multiple awards.
Ready to get started?
Thousands of customers worldwide use Creatio to accelerate their business processes.