Cloud Marketing software importance
The department of marketing is the place where everything starts. Without it, the sales process cannot be integrated into the CRM application. Therefore, it will be fair to say that successful sale begins with the correct marketing campaign or with the gradual and effective lead nurturing. 
The abundance of the software on the market makes one ask what is the best way to digitize marketing and what advantages does CRM with email marketing has over others. 
Well, the answer requires a complex approach. CRM with email marketing functionality has an unbeatable advantage of clear visibility of all the steps, ways and tricks needed to supervise, adjust and monitor all the activities and consequently reach your target. 
Unlike precise and specific emailing tools that can make the bulk emailing easy, they will not be able to provide you with analytical information or even simple history of emailing the contact.
Effectively organized online email marketing can help you do the following:
organize effective communication with the potential customers
acquaint potential clients with your brand
get the required actions from your subscribers ("likes" for your posts, following the links, leaving comments)
win back inactive loyal customers
avoid attracting additional advertising resources
segment the base of subscribers and completely automate sales pipeline
build long-lasting and strong relations with the target audience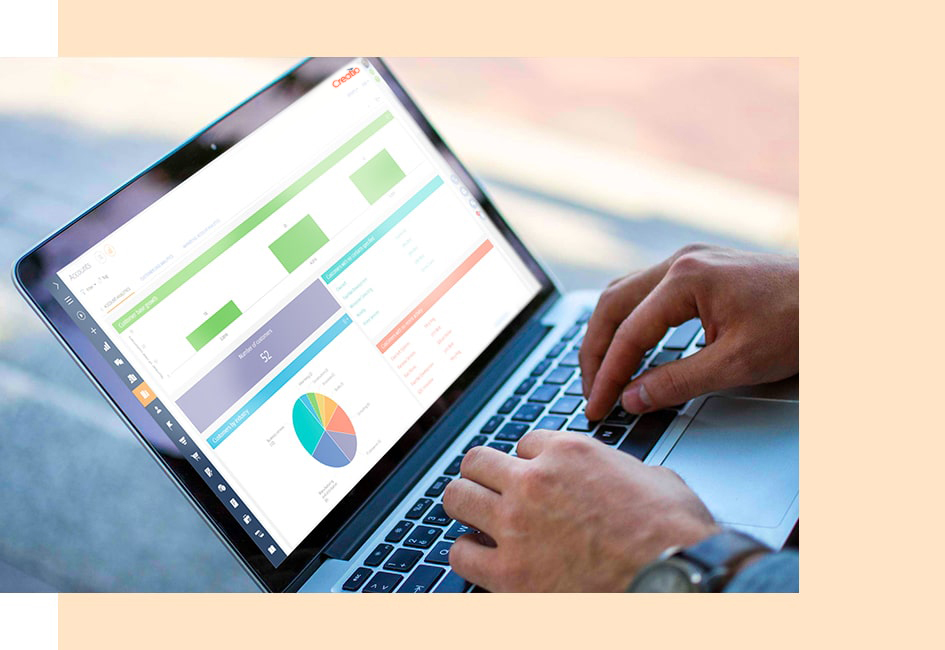 Benefits of cloud marketing
Reduced costs of distributing marketing material: remember the hassle and expenses incurred by companies and businesses trying to send newsletters and other marketing material through the mail. This is no longer the case as digital formats are faster and cheaper to communicate with prospective customers.
Reduced cost of marketing material: cloud marketing is here for you to replace printing costs and expensive advertising time when using old strategies.
Less wastage of marketing material: when employing cloud marketing software, advertising is only produced when it is needed. It allows you to get rid of mailers and signs that usually sit around collecting dust when they are not in use. With cloud marketing, once a particular marketing campaign is over, it only takes deleting it from the net, and that is all.
Increased efficiency: cloud computing software has helped with reducing the time taken between planning and implementation of ad campaigns.
Increased customization: the internet offers brands with various interactive mediums to place their marketing in. Due to this flexibility, brands can deliver more focused, relevant, and more effective advertising based on targeted customer needs.
Check the pricing and boost your marketing processes with Creatio web-based Email Marketing Software!
Creatio CRM
Creatio is a cloud-based customer relationship management software powered by out-of-the-box best practice processes to deliver demand generation excellence. CRM products Creatio delivers include Sales Creatio, Marketing Creatio, and Service Creatio. The solutions are tailored towards enhancing the general wellbeing of a business in terms of marketing following the complete customer journal, looking into the sales funnel, and delivering the best quality customer service to ensure customers are satisfied and happy.
Creatio comes with several features to ensure that three aspects of a successful business: sales, marketing, and service are delivered in the best way possible. Some of those features are listed below:
Personalized email marketing

This allows your team to have endless communication opportunities. The feature has built-in integration with Elastic and UniOne , professional email service providers to enable sending of emails to millions of recipients on the go.

Trigger campaigns

With the software's intuitive campaign designer, you can easily create effective multi-channel campaigns. You can plan campaigns using the simple visual campaign designer as well as define conditions for transitioning between campaign stages. The software solution allows for setting up of criteria for campaign completion and target conversion rates. Above all, it offers tools to monitor campaign progress in real time.

Lead management

This is a crucial aspect of marketing where the system helps to track visitor behavior on your website as well as enable you to identify lead generation sources and channels. The information collected is displayed in the dashboard analytics for evaluation on the effectiveness of lead channels used in your marketing campaigns. This feature enables users to focus their efforts on the channels performing the best.

Website behavior tracking

Also referred to as website event tracking. It helps users to track their prospects' behavior while on website, including the pages visited, time spent on particular pages, and website paths among others. The gathered information in the visitor's cookie files is then sent to Marketing Creatio to be added to a lead's profile for later follow-ups.

360-degree customer view

This is critical to enable your marketing teams to understand the changing needs of customers and then match them with the right product or service. Customer preferences are bound to evolve with time, and your business needs to keep up with the changes by predicting and giving them products that may interest them in the future. Since the system allows tracking of changes in customer preferences, as well as creating new ones, you will always stay at the top of your industry in delivering what the customers expect
Ready to get started?
Learn how Creatio web-based email marketing software can help you grow your business!
The mission of Creatio is to help companies ACCELERATE!
Creatio is a global business software company leading in the space of business process automation and CRM. The company has been highly recognized as a market leader by key industry analysts. Its intelligent platform accelerates sales, marketing, service and operations for thousands of customers and hundreds of partners worldwide. 
Creatio has been widely recognized by key industry analysts, receiving multiple awards.
Сreatio named a Leader in the Gartner Magic Quadrant for Sales Force Automation (2021).

Creatio named a Leader in the Gartner Magic Quadrant for B2B Marketing Automation Platforms (2021)

Creatio has been included in the Gartner Magic Quadrant for the CRM Customer Engagement Center (2020)

Creatio has been included in the Gartner Magic Quadrant for Enterprise Low-Code Application Platforms (2021)

Creatio has been included in the Gartner Magic Quadrant for Intelligent Business Process Management Suites (2019)
Creatio named a Strong Performer in The Forrester Wave™: Digital Process Automation for Wide Deployments, Q1 (2019)

Creatio named a Strong Performer in The Forrester Wave™: Customer Service Solutions, Q2 (2019)

Creatio named a Strong Performer in The Forrester Wave™: CRM Suites, Q4 (2018)

Creatio named a Strong Performer in
The Forrester Wave™: B2B Marketing Automation Platforms, Q4 (2018)

Creatio named a Strong Performer in The Forrester Wave™: Cloud-Based Dynamic Case Management, Q1 (2018)

Creatio named a Strong Performer in The Forrester Wave™: Sales Force Automation Solutions, Q2 (2017)
Creatio has been recognized in the LCAP Technology Value Matrix 2020 by Nucleus Research.

Creatio has been recognized as a Leader in the CRM Technology Value Matrix 2020 by Nucleus Research.
Creatio named a Leader in the Grid® Reports for Business Process Management and CRM | Winter 2021 by G2.
Creatio named a winner of the CRM Watchlist 2020 award led by Paul Greenberg, one of the most influential thought leaders in the CRM industry.
Creatio named a 5-Star Partner Program Award Winner among Cloud Vendors by CRN Magazine for the third consecutive year (2020).
Creatio named a winner of a People's Choice Stevie® Award for Favorite New Products in The 18th Annual American Business Awards® (2020).
Creatio named a Leader in three categories of the 2019 CRM Market Leader Awards - Enterprise CRM, CRM for Midsize Companies and SFA.
Creatio named a winner of a Gold Stevie Award in the Digital Process Automation Solution category in The 17th Annual American Business Awards. (2019).
Creatio named Market Leader in the Summer 2020 Low-Code Development Platforms Customer Success Report.
Creatio named a Top 1 business process management solution by FinancesOnline for the second year in a row (2019).