Why Is Sales Force Automation Software Important for Your Business?
In order to stay ahead of your competition and gain as many customers as possible, you need to make sure that all your business processes are streamlined, so that you can fully focus on your core competencies. You need to be able to follow your customers through their entire customer journey and successfully guide them through every single stage of your sales pipeline.
This is why you need to have an agile and effective sales management system that will provide you with accurate information about your customers and prospects, including all their interests and preferences related to your business, so that you can identify your top customers, remove all the bottlenecks in the sales pipeline, and effectively convert all your quality leads.
This is where a sales force automation system comes into play. Having a good a sales force automation system in place will help you capture quality leads and effectively convert them, eventually increasing your sales and generating more revenue and ROI.
Finding the right a sales force automation system for your business may be a bit daunting, as there are plenty of products out there to choose from, which is why Creatio provides the software that is certain to fit every business' unique needs.
Sales Creatio is an intelligent sales force automation system that is designed for effectively managing sales and boosting the sales productivity of every business, providing the complete control of the entire customer journey and increasing sales volume and revenue.
Boost your sales productivity with an innovative Creatio SFA software.
Check the pricing right now!
Advantages of sales force automation with Creatio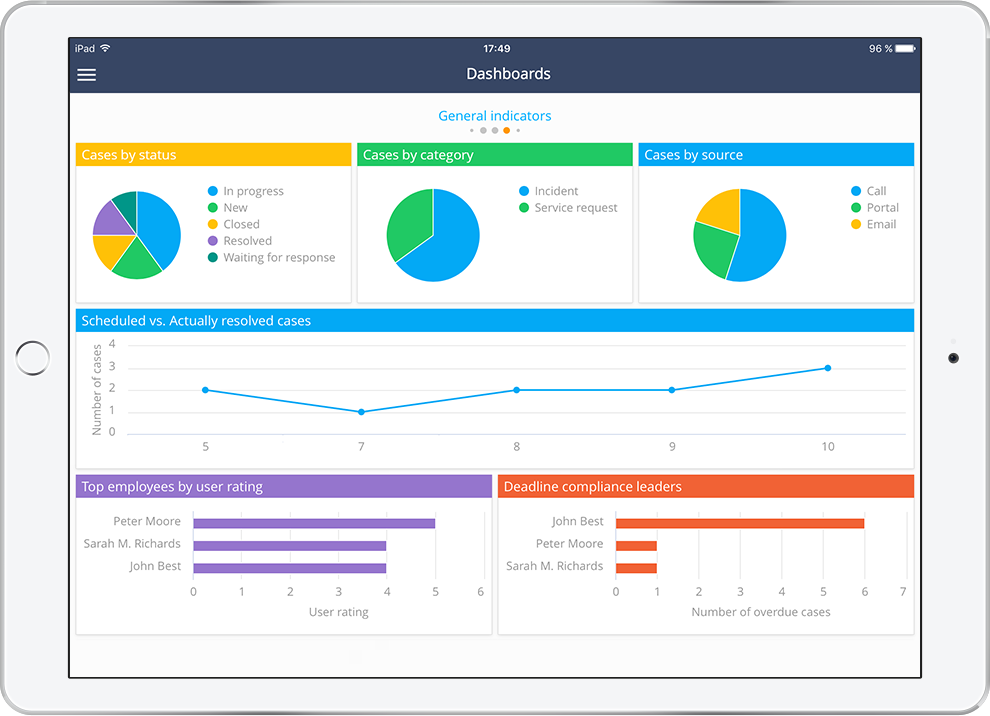 The agility to change sales force automation processes on-the-go
All Creatio applications are backed by a powerful BPM engine, which enables design, execution and modification of business processes in real time to stay tuned to the new business environment. With the help of an intuitive visual process designer, users can easily make necessary changes to existing processes, as there is no coding required.
What is sales force automation software?
Sales force automation (SFA) is end-to-end sales management software that provides a complete control over the entire customer journey – from lead to order, and repeat sales. Proficient sales automation software automatically registers all stages of the company's sales process including a system for tracking customer contacts and a system for identifying potential customers.
With a sales force automation system, you can automate numerous repetitive and time-consuming, but necessary tasks associated with sales. By automating those tasks, you will eliminate the risk of human error and be certain that every piece of information, including vital reports and analytics, is always accurate, so you will never make a costly mistake.
Moreover, you will free up quite a lot of time for your sales reps, enabling them to do what they do best – communicate with your prospects and customers in order to sell your company's products or services.
Statistic data proves the ineffectiveness of any organization without the competent planning of the sales process: 60% of companies close for this reason during the first three years of operation.
 
Automated Sales System
For any business, an important component of success is an intelligent sales system. It must operate perfectly, especially considering rapidly growing market and high competition; the system should be fast and accurate, allowing for a minimum of errors. In the battles for the market share, only the strongest survive, and the sales system is a very powerful weapon that can significantly change the alignment of forces. Working with a proper Sales Force Automation system, a manager has the full information on the orders, which enables him to react in a timely manner to changing situation, give the necessary recommendations to his subordinates, check the stock of production and adjust the processes to increase sales volume.
Sales Creatio is a cloud-based CRM system for sales force automation to drive successful customer acquisition, development and retention. The solution has a set of built-in best practice sales processes that guide sales reps step-by-step through the most effective actions to liberate sales bottlenecks and get the most out of the sales pipeline.
Moreover, Creatio's SFA software enables users to connect sales processes with the lead generation pipeline, account management and service delivery stages to ensure a positive and personalized experience for each customer.
 
360° customer view
Keep all your accounts and contacts in one place, and segment your customers to enhance communication with them and build strong relationships. A complete view of your customers, along with the history of interactions, will help you predict their buying behavior and make data-driven decisions.
Business process management
Automate all your business processes and keep track of their execution, so that you can identify and eliminate any potential bottlenecks and make sure you reach maximum operational efficiency within your organization.
Collaboration tools
Communicate with all your customers and teams directly from Creatio CRM system. Send emails, make calls, manage your tasks and meetings, and collaborate with your team in real-time on the integrated Enterprise Social Network (ESN), regardless of the device you are using.
Keep all your lead profiles in one place, so that you can track, capture, and nurture them. Use Sales Creatio to analyze your statistics on leads in order to qualify them and assign them to the right teams, before handing them off to sales reps.
Manage all your opportunities with the out-of-the-box sales process that will help you successfully close every deal, guiding you through every stage of the sales pipeline and providing you with comprehensive analytics on your opportunities.
Manage your orders in Sales Creatio, which will keep your entire orders history and enable you to process orders in a single window of the CRM system, allowing you also to add invoices and control all the payments.
Easily manage your field sales reps by scheduling their visits and using geo-tags to monitor them in real-time and evaluate their efficiency. Manage all contracts in Sales Creatio and receive orders instantly during all meetings.
Sales forecasting
Use Sales Creatio forecasting tools to predict sales volume and ensure you meet, and even exceed, your sales quotas. Our sales analytics tool will help you compare indicators across various time periods to accurately forecast your sales.
Contract management
Keep all your contracts in a single database in the Sales Creatio system. Automate contract approvals and create print documents in just a matter of seconds.
Product management
Integrate your product or service portfolio with your ERP system to create a product catalogue, which you can manage in Sales Creatio. You can organize your products according to their attributes, and instantly find the right ones for your every client.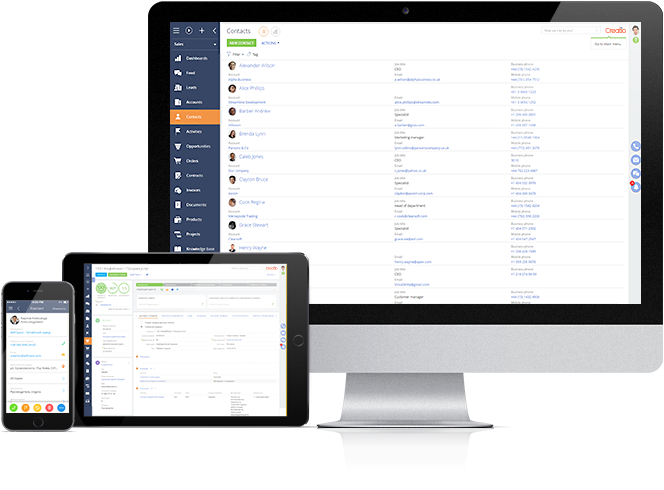 Use the pre-built templates in the Sales Creatio to create documents, and automatically fill them with necessary information from the CRM system. Organize and track all your documents, and link them to opportunities, leads, customers and all your orders.
Effectively manage all your internal and external projects and evaluate the efficiency of each one by analyzing key project metrics. Sales Creatio allows you to easily assign tasks to appropriate teams, set the deadlines, and manage project costs.
Use Sales Creatio mobile app to manage all your sales processes anytime and anywhere, from any mobile device. Add contacts, make calls, send emails and SMS, schedule tasks and meetings, track opportunities and leads in real-time, collaborate with teams on the ESN – all both online and offline.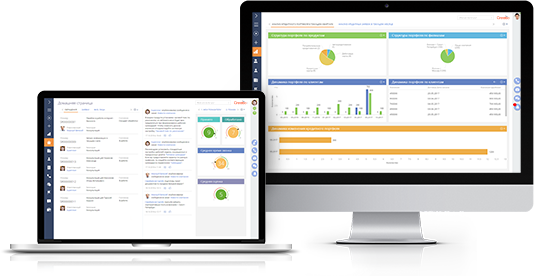 Knowledge management
Use our knowledge base to store all your documents, FAQs, articles, guidelines and presentations, and communicate with your teams in real-time. Everyone can share ideas and post notes, being instantly notified about every comment and document update, as well as find the right information in just a matter of seconds.
Synchronization and integration
You can integrate Sales Creatio with other third-party systems to streamline all your data and make fast and accurate business decisions. Import data to and from Excel, synchronize your data with MS Exchange, MS Outlook and Google, and integrate with IP PBX systems to manage calls directly from Sales Creatio.
System designer
Customize the user interface to personalize the system and make it fit your unique business needs, with no coding required. Localize the system into any language you want, create visually appealing email templates, personalize your mobile app, and leverage the activity log that records all your operations.
Ready to get started? 
Thousands of customers worldwide use Creatio to accelerate their business processes.
The mission of Creatio is to help companies ACCELERATE!
Creatio is a global business software company leading in the space of business process automation and CRM. The company has been highly recognized as a market leader by key industry analysts. Its intelligent platform accelerates sales, marketing, service and operations for thousands of customers and hundreds of partners worldwide. 
Creatio has been widely recognized by key industry analysts, receiving multiple awards.
Сreatio named a Leader in the Gartner Magic Quadrant for Sales Force Automation (2021).

Creatio named a Leader in the Gartner Magic Quadrant for B2B Marketing Automation Platforms (2021)

Creatio has been included in the Gartner Magic Quadrant for the CRM Customer Engagement Center (2020)

Creatio has been included in the Gartner Magic Quadrant for Enterprise Low-Code Application Platforms (2021)

Creatio has been included in the Gartner Magic Quadrant for Intelligent Business Process Management Suites (2019)
Creatio named a Strong Performer in The Forrester Wave™: Digital Process Automation for Wide Deployments, Q1 (2019)

Creatio named a Strong Performer in The Forrester Wave™: Customer Service Solutions, Q2 (2019)

Creatio named a Strong Performer in The Forrester Wave™: CRM Suites, Q4 (2018)

Creatio named a Strong Performer in
The Forrester Wave™: B2B Marketing Automation Platforms, Q4 (2018)

Creatio named a Strong Performer in The Forrester Wave™: Cloud-Based Dynamic Case Management, Q1 (2018)

Creatio named a Strong Performer in The Forrester Wave™: Sales Force Automation Solutions, Q2 (2017)
Creatio has been recognized in the LCAP Technology Value Matrix 2020 by Nucleus Research.

Creatio has been recognized as a Leader in the CRM Technology Value Matrix 2020 by Nucleus Research.
Creatio named a Leader in the Grid® Reports for Business Process Management and CRM | Winter 2021 by G2.
Creatio named a winner of the CRM Watchlist 2020 award led by Paul Greenberg, one of the most influential thought leaders in the CRM industry.
Creatio named a 5-Star Partner Program Award Winner among Cloud Vendors by CRN Magazine for the third consecutive year (2020).
Creatio named a winner of a People's Choice Stevie® Award for Favorite New Products in The 18th Annual American Business Awards® (2020).
Creatio named a Leader in three categories of the 2019 CRM Market Leader Awards - Enterprise CRM, CRM for Midsize Companies and SFA.
Creatio named a winner of a Gold Stevie Award in the Digital Process Automation Solution category in The 17th Annual American Business Awards. (2019).
Creatio named Market Leader in the Summer 2020 Low-Code Development Platforms Customer Success Report.
Creatio named a Top 1 business process management solution by FinancesOnline for the second year in a row (2019).