What does BPM stand for and how can your business benefit from it?
According to recent studies, global BPM market will double up to 14 billion US dollars by 2021. The main reason of such growth is that more and more companies across the world realize the value of managing their processes and its importance to the business success. So, what does BPM stand for?
In today's business world, organizations are actively applying the process approach to their work environments. However, there is still a problem of understanding what BPM stands for. BPM implies Business Process Management – the concept of a systematic approach to design, implement, measure, monitor and control the operational processes that exist in an organization.
With the help of business process management (BPM), companies can easily model existing business processes and create new ones. BPM allows companies to be more flexible and agile, as well as to adapt more quickly to any market changes. That is why a lot of midsize and large enterprises began to actively implement BPM systems.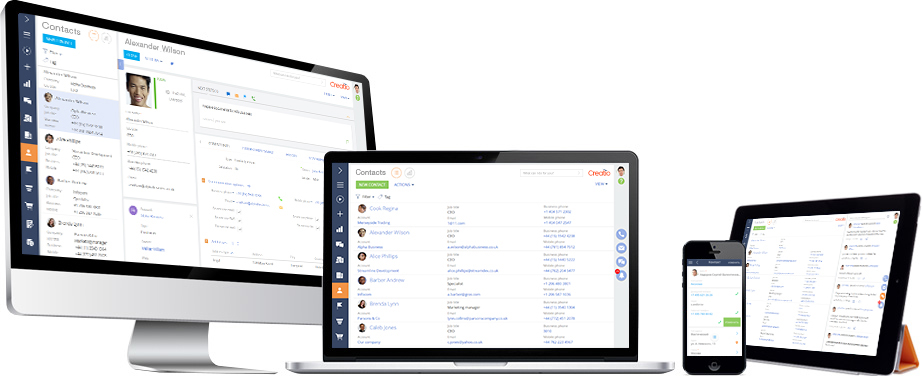 The difference between CRM and BPM
The speed of creating new software for business automation is tremendous, so it might be hard to understand all the differences between CRM and BPM, where CRM is Customer Relationship Management and BPM stands for Business Process Management.
Customer relationship management allows companies to automate customer-facing processes and enables sales, marketing and service functions to be automated. CRM software helps to reduce marketing costs, get better customer insights and increase customer lifetime value.
Business process management allows companies to analyze and change business processes. Businesses benefit from BPM software in a way of controlling chaotic processes and improving business agility.
Studio Creatio– the most agile BPM system to accelerate business processes
Business process management requires an intelligent and easy-to-use BPM platform. Studio Creatio is a platform with unique synergy of BPM and case management, which allows companies to manage their business processes and create applications for any business needs. With this combination, businesses can optimize both structured and unstructured processes, as well as achieve better business agility.
Check the pricing of Studio Creatio and discover why it is crucial for your business success! 
Business process management
Studio Creatio allows its users to automate any internal business process – from hiring an employee to executing a large project featuring collaboration of different departments. Quickly build a process with easy-to-use process designer and take the advantage of a robust business process management engine to deal with multiple business processes at the same time. Monitor and analyze existing processes to detect unwanted bottlenecks instantly by using custom dashboards and process log.
Case management
Manage and automate unstructured business processes in Studio Creatio with a power of Dynamic Case Management (DCM). Easy-to-use case designer makes the process of managing cases fast and seamless – just use drag-n-drop tool to create possible steps for each stage of a process. Get an instant access to real-time analytics in order to optimize cases.
System designer
Studio Creatio provides a possibility to customize the system's interface as much as you want – from the order of data fields to system's colors according to the company's branding. Section wizard allows creating new sections and editing the existing ones. Set up dashboards, easily create reports and track KPIs in real time to have a complete visibility on your company's performance. Extend the functionality of Studio Creatio by setting up one of numerous out-of-the-box processes, templates and applications available to download at Marketplace Creatio.
Core configuration
Basic features of Studio Creatio make it possible to solve different routine tasks – from planning your agenda for a day to collaborating within your team for a project. The system allows to not only manage internal communications but to connect with prospects and customers directly from Studio Creatio.
Ready to get started?
Learn how your organization can accelerate its business processes with the help of Studio Creatio!
The mission of Creatio is to help companies ACCELERATE!
Creatio is a global business software company leading in the space of business process automation and CRM. The company has been highly recognized as a market leader by key industry analysts. Its intelligent platform accelerates sales, marketing, service and operations for thousands of customers and hundreds of partners worldwide.