Why you should look for Bizagi alternative
Bizagi is a popular BPM software that brings process automation across the enterprise. The software is used for business process automation, legacy modernization, and low-code app development. In case your business requires a simple and straightforward service with basic features, then Bizagi BPM solution might be a suitable option. On the other hand, if you are searching for a comprehensive BPM platform with extensive functionality, then there are some aspects to be considered before implementing Bizagi BPMS.
Though Bizagi is a leading player in the BPM software market, it still has a number of drawbacks. The primary downside to Bizagi is its simplicity and limited functionality. As practice shows, most business owners are looking for a more sophisticated BPM software than Bizagi, and that is when CRM alternatives come in handy. If extensive functionality and technicality are your main buying points, then Bizagi may not be the software for you. Fortunately, nowadays there are tons of other BPM solutions one the market one can choose from. Check out the most reliable ones and select the software that fits your BPM needs best.
Take advantage of the unique synergy of BPM and Case Management provides a new level of agility to streamline your business operations
Studio Creatio: A worthy alternative to Bizagi
Studio Creatio is an intelligent business process management (BPM) and low-code platform with off-the-shelf solutions and templates, which enables businesses from various industries to create custom applications exactly for their specific business needs.
Case management (CM) approach allows users to flexibly manage even unstructured processes. CM offers adaptable, context-based patterns that enable users to select the best path and set of activities to achieve more successful, optimized outcomes.
With Creatio's intuitive interface, you don't need to be a technical specialist to manage dynamic processes. Add key process stages and possible steps on each stage – and the process is ready to go. With the help of drag-n-drop tools, it is easy to change the sequence of process stages as well as move steps between different stages.
Target market
Midsized and large businesses
Midsized and large businesses
Price
$300 per user per year (monthly subscription, billed annually)
$311 per user per year
Single platform for sales, marketing and service
+
-
Customer support

Online
Business hours
24/7 (live rep)

API
+ open
+ open
Deployment
Training

Documentation
Webinars
Live online
In person

Documentation
Webinars
Live online
In person

Customization
+ free
+ free
Capterra rating
5/5
4.5/5
G2 Crowd rating
4.7/5
4.7/5
Software Advice rating
5/5
4.5/5
TRY IT FOR FREE
BIZAGI WEBSITE
Creatio provides the full spectrum of tools to professionally manage business processes, including process modelling, execution, monitoring and analysis
In addition to the aforementioned functionality, Studio Creatio comes with all core functions allowing users to manage the organizational structure of the company, provide detailed information about employees, plan working hours, meetings and activities.
Off-the-shelf tools allow you to solve various business tasks – from managing employee profiles and unifying all customer data in a single informational environment to streamlining omnichannel communication with your clients.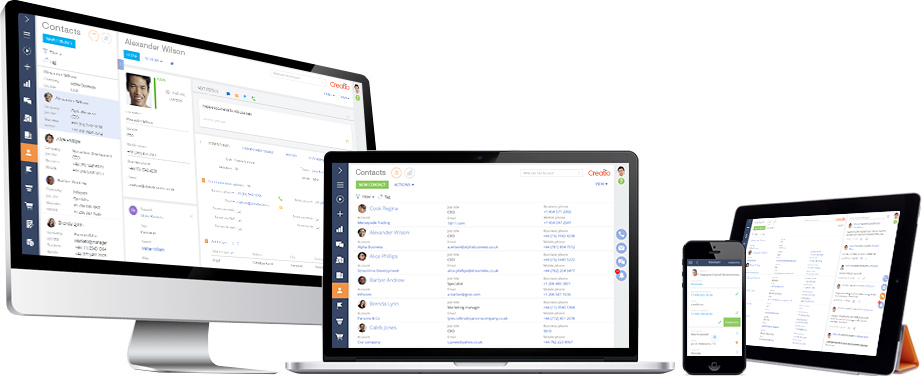 Check out the key advantages of utilizing Studio Creatio:
Intelligent technologies help users automate multiple time-consuming operations.
Out-of-the-box solutions for marketing, sales and service help accelerate business growth.
Low-code technologies ensure rapid creation of apps and solutions.
Studio Creatio provides users with all the necessary tools for creating and configuring the application. All configuration tools are available in the system designer. You can easily create new sections or edit existing ones using section wizard. Additionally, the tool allows you to set up page properties.
With Creatio platform, users are able to customize almost everything in the system – from section structure and business logics, to system look and feel according to the corporate branding. Thanks to system designer, uploading corporate logos, changing the color of the section panel and setting up workplaces for different types of users is not a problem anymore!
Alongside customization and open configuration, the platform offers two deployment options: cloud and on-site. Choose the one that fits your business needs best.