In spite of the amount and variety of the functions Oracle CRM offers to its customers, more and more organizations are now looking for Oracle CRM alternative.
The world is speeding up at an incredible pace, and digital transformation being the latest business trend lays down its own rules on the companies' roadmaps, business approach and strategy. Because of the aspiration to digitalize operations and processes, businesses are in a pressing need of a highly agile, comprehensive, yet easy-to-use tool. Though Oracle CRM features plenty of functions, it has too many drawbacks highlighted by the users, among which are bulky interface that slows down the learning curve as well as the lack of the learning materials, inability to access from a mobile device, poor analytics visualization and limited customization capabilities.
Why Creatio CRM is a perfect match to your business
Creatio is a leading vendor in the space of business process management and CRM. Its core advantage is fully integrated solutions to accelerate marketing, sales, service and operations, which can be used both as stand-alone products and as a bundle.
Creatio allows for automating the complete customer journey, equipping businesses with all the tools to manage customers at every stage. Unlike Oracle CRM interface, the Creatio interface is easy-to-use and intuitive, which allows for accelerating user adoption and reducing the learning curve. The vendor provides professional and comprehensive support and customer success managers, who are extremely helpful, especially during the implementation process. The system features native mobile app, which is very useful for field teams because it provides them with all the necessary data on leads and customers as well as convenient communication tools wherever they are. Moreover, users can even access the dashboards from any portable device. The great thing is that the apps are available in both online and offline modes.
Thousands of businesses worldwide use Creatio products to help manage customer-facing processes and deliver an amazing customer experience
Try It free
Target market
Midsized and large businesses
Midsized and large businesses
Trial
14 days
30 days
Monthly price per user
$25-$50 per user per month
Not provided by the vendor
Single platform for sales, marketing and service
+
-
Mobile app
iOS, Android, Windows
iOS, Android
Customer support

Online
Business hours
24/7 (live rep)

API
+ open
+ open
Deployment
Training

Documentation
Webinars
Live online
In person

Customization
+ free
Restricted
Capterra rating
5/5
4.5/5
G2 Crowd rating
4.7/5
3.5/5
Software Advice rating
5/5
4.5/5
TRY IT FOR FREE
Creatio is the most agile CRM platform for midsize and large enterprises to accelerate sales, marketing, service and operations
Creatio offers out-of-the-box tools to accelerate marketing, sales, service and operations. Backed by intelligent BPM platform, Creatio agile CRM allows organizations from different industries to take advantage of the best practice prebuilt processes, customize them to fit company's unique requirements or create their own processes to be a perfect fit for the specific business. Easy-to-use and intuitive system allows for automating the routine tasks, thus reducing the probability of errors and increasing the overall performance. Moreover, Creatio is a highly customizable system and it provides extensive integration capabilities, which allow users to integrate it with almost every third-party app to expand its capabilities.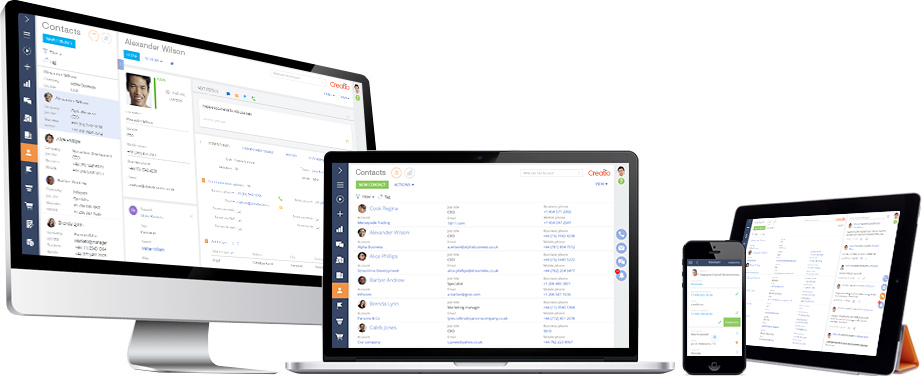 Creatio provides Marketplace Creatio, unified ecosystem of apps and templates that help expand Creatio capabilities. The solutions are developed by Creatio, its partners and independent developers. Users can find on the marketplace:
Add-ons – ready-made apps that enables to add more useful features to Creatio.
Connectors – solutions that allow for integrating Creatio with other systems.
Software solutions – solutions that provide the tools to solve industry-specific tasks.
By implementing Creatio, the most agile CRM platform for midsize and large enterprises, organizations receive top-notch software that allows for accelerating the 4 key pillars of digital transformation: implementation, adoption, change and alignment.
Creatio is a unique synergy of intelligent BPM platform and unified CRM, with extensive marketplace of apps and templates. Rich in functionality yet easy-to-use, Creatio products provide exceptional value with its extended business process management capabilities.