Explore more about CRM Software with Creatio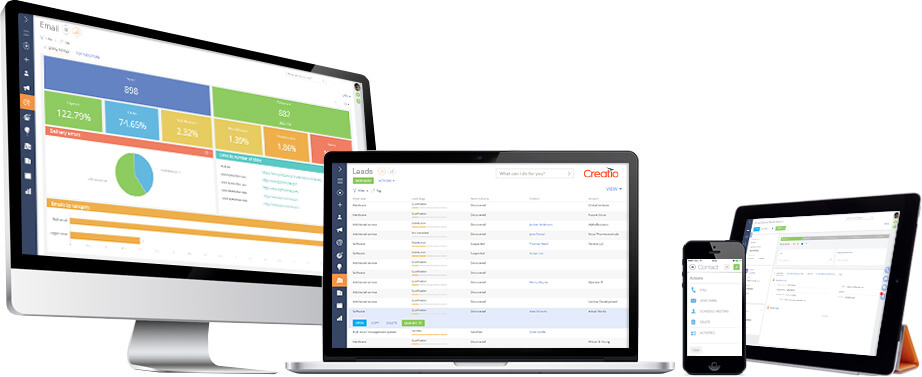 In a broad sense, CRM (Customer Relationship Management) is an approach businesses use to manage communication with current and potential customers. This approach involves the analysis of customer data in order to improve relations and personalize future communication.
Customer data includes any information that characterizes client interaction with the organization be it, for example, the inability to meet on Wednesdays or a preferred tendency to discuss important matters by phone only. With such information, sales reps are able to build the most effective communication model with each client, which allows them to better understand customer needs, increase loyalty and ultimately contribute to sales growth.
Customer Relationship Management strategy exemplifies a business who puts its customers at the forefront of its activities.
This customer focus affects not only the company's overall business strategy, but also the corporate culture, structure and business processes and operations.
The main purpose of implementing a customer-oriented strategy is to create a unified ecosystem to attract new customers and develop a stronger relationship with existing ones.
CRM software is a tool that helps automate business processes, procedures and operations that implement the company's CRM strategy.
Being the top tool for capturing and retaining customers, CRM software minimizes human error when working with clients and drives better transparency in sales, marketing and customer service operations.
At the same time, it is important to understand that process automation is an important, but not the only and not the paramount step in building a customer-oriented business. CRM software is a convenient tool that is meant to support already existing regulations and processes.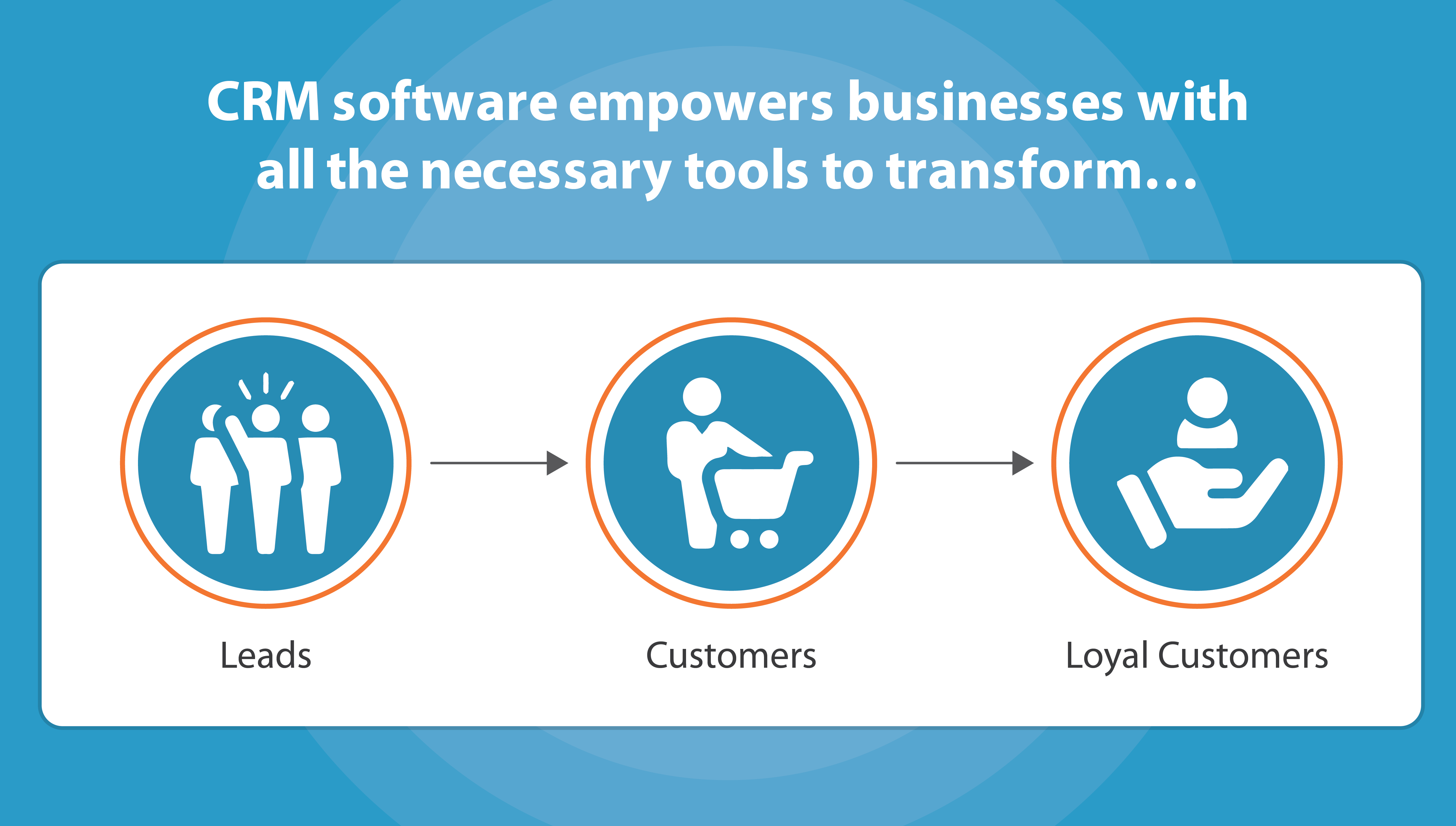 Take advantage of Creatio– intelligent CRM aimed at improving your sales and marketing outcomes.
1
CRM software allows for the consolidation of all client data and interactions in a unified environment. In this way, all employees have 360-degree customer view, which helps approach customers in a more personalized manner taking into account the preferences and tastes of every single client. This helps increase customer satisfaction rate, drive customer loyalty and improve overall customer experience.
2
Well-structured and useful information on prospects provides organizations with the ability to approach them with the relevant message, service and product as well as cross-sell and upsell in the right moment. What's more, CRM helps to retain customers after the first sale: by automating re-engagement processes. This helps significantly increase sales volume and revenue correspondingly.
 
3
There are a lot of processes that necessitate direct human involvement, but in a majority of cases employees spend their working hours dealing with repetitive, routine tasks, which are important but time-consuming. CRM system empowers businesses with the tools to automate both internal and external mundane operations, such as manual data entry of new event registrants or sending welcome emails to new employees. Moreover, supervisors and managers are able to analyze employee performance and improve internal processes. This results in the increased performance of the whole organization and increase of the employee satisfaction rate.
4
CRM stores not only customer information useful for sales reps, but the data that is highly important for marketing and service teams. All employees should direct their efforts towards common goals. Lack of data completeness and transparency as well as information gaps may become the main reason of failed projects, misunderstandings with customers, amongst team members and overall poor performance. All departments in an organization should be perfectly aligned and operate as a single mechanism to drive noticeable, successful results.
5
It is impossible to improve the profitability of an enterprise without a deep analysis of customer information. A CRM system allows the company to obtain statistical information and conduct complex data analysis, which is necessary for making strategic business decisions. Powerful analytics can help identify bottlenecks in the business processes of an organization, which helps develop a truly winning strategy.
By business size
The aim of any small business is growth, which means more customers, more data, more employees and more processes. SMB CRM can provide small businesses with all the tools required to accelerate growth. Easy-to-use CRM allows SMB organizations to easily manage the whole buyer cycle not overloading employees with unnecessary complicated functionality. Moreover, by implementing a highly scalable solution, small businesses will be able to expand CRM capabilities in conjunction with company growth.
SMB businesses that made it to the medium-sized organization need to effectively cope with the increased volume of tasks. With the emergence of new, complicated corporate processes, medium size companies can take advantage of CRM solution to obtain a clear view of all the information and analyze business efficiency. This allows for identifying bottlenecks and, consequently, developing a better strategy to stay competitive and further grow.
Large enterprises assume complex projects with multiple participants, enormous data volume, an immense amount of internal processes, even more documentation and numerous employees. A CRM system can help create effective processes and automate the routine ones; compile lead, customer and employee data in the unified database; align marketing, sales and service teams; conduct deep data analytics; optimize documentation management and more.
By job role
Comprehensive CRM systems allow for managing a complete sales cycle – from lead to repeat sales. With a CRM in place, sales reps are able to aggregate all lead information including the history of lead interactions. This enables a more effective prospect approach with an appropriate message and increases the probability of a successful deal closure. CRM software allows for maintaining pipeline healthiness and helps increase conversion rates.
Marketing professionals can as well take advantage of CRM software. CRM system provides marketers with effective tools for email marketing, for example with segmentation capabilities, it is possible to more accurately target bulk emails. CRM is able to track visitors on a company's website, which allows for further improving customer experience by displaying the most relevant content. Event management capabilities will enable to simplify event organization: track deadlines, plan budget, assign responsible employees, etc. CRM software will also help with campaign management, e.g. send trigger emails, evaluate campaign effectiveness, and monitor campaign progress.
CRM system provides the HR department with the ability to store the data on all employees in a single database. In such a way, HR specialists will be able to track employee schedules and monitor activities, as well as keep track of organizational structure. Moreover, it is easy to monitor a complete employee history within the company, which allows for more effective employee retention and motivation activities.
IT department is the one responsible for all the apps business utilizes, their maintenance and seamless operation. Ensuring all the apps are integrated on a single platform (this is a major benefit top CRM systems feature), it is way easier to maintain their smooth performance. What is more, professional systems offer capabilities to effortlessly configure app without or with minimum involvement of IT specialists. This means that system maintenance requires fewer resources as almost everything can be configured with only citizen developer skills.
Marketing professionals can as well take advantage of CRM software. CRM system provides marketers with effective tools for email marketing, for example with segmentation capabilities, it is possible to more accurately target bulk emails. CRM is able to track visitors on a company's website, which allows for further improving customer experience by displaying the most relevant content. Event management capabilities will enable to simplify event organization: track deadlines, plan budget, assign responsible employees, etc. CRM software will also help with campaign management, e.g. send trigger emails, evaluate campaign effectiveness, and monitor campaign progress.
By business model
B2B companies often have longer sales cycle than companies with B2C business model. B2B CRM software is able to provide B2B organizations with all the necessary tools to manage its clients across the whole customer journey at the same time providing more transparency into a company's processes at every stage. In addition, CRM system helps forecast not only the sales volume, but the probability of a successful deal closure. This means that sales reps are able to save their time and efforts working only with the hottest leads. Good B2B CRM should feature wide integration capabilities, which is highly important for B2B organizations, which use a lot of additional apps. In such a way, CRM system helps B2B business be more flexible and eliminate app proliferation problems.
B2C businesses usually have larger databases of customers and leads than B2B companies. CRM for B2C business allows for quick and effective management of all contacts regardless of the database size, be it 10 or 10B contacts. What is more, CRM systems enable to keep all the data up-to-date, which is extremely important to approach customers with the right message and deliver an outstanding customer service.
How to choose the best CRM software
Professional CRM platform is a must for every growing business no matter its size or industry. If chosen and implemented wisely, CRM can help streamline the most complex business processes without putting in too much time or effort. CRM software has proven its effectiveness to thousands of organizations and remains the number one tool for sales representatives all over the world.
Even though today the choice for CRM solutions is wider than ever, selecting the one for your organization is still a challenging task. As the saying goes, having too many options make it harder to choose. This is because when people make decisions, they are motivated not only by the opportunity for gain, but also by the fear of loss.
Learn more about the pricing of Creatio CRM Software
Top reasons CRM adoption fails
According to statistics, half of all CRM deployments don't reach their targets. In this article, we have gathered some of the most popular causes of CRM failures to help you protect your organization:
1
If your CRM software is too complex, there is a very low chance it will be used by non tech-savvy employees. We all know that having to work in a confusing CRM steals time from sales reps and causes daily frustration. And if your employees don't like using a new CRM, sooner or later they will give up on it.
Your CRM should be simple and make your employees' job easier – not harder. Search for an intuitive, responsive, and user-friendly system that will be easy to learn for anyone regardless of their CRM experience. Once you find such kind of software, it will be easy for you to train your sales reps. Easy-to-use CRM keeps your employees motivated, helping them to close more sales.
2
Great CRM software requires minimum data entry, making it easy to add it automatically. CRM should reduce manual logging of activities. All interactions, including calls, emails and replies should be recorded within the CRM or added in a few clicks.
Many CRM solutions available on the market today provide users with the opportunity to add contacts details to the database in just a single click. Your CRM should allow integrations with other systems so contacts can be added from different sources. If a sales representative has to spend his time updating contacts details, he will simply ditch the system. Remember, your sales reps are being paid for sales, not data entry.
3
Adopting to new CRM software is not something that happens in several hours. It can take up to a week or more depending on how many people you have in your team. You need to give your team time to get familiar with the software and not fine them for lost sales during the learning process.
It is crucial that you fully train your team. Your CRM software can seem confusing for the first time but that's okay. Don't cut down on training time to trim the project's budget – usually it results in low user adoption rates and increased risk of CRM software failure. If you want your team to make the most of the software, do not skimp on the training.
4
While sales representatives may be the main CRM users, they should not be the only ones. Your CRM should be the platform of record for all employees. This way when a salesperson is about to call a customer to renew for the upcoming year, they can see in the CRM updates from accounts if they have paid their last invoice, from customer support if the customer has had any issues lately or from marketing if the customer has downloaded any information on the new product upgrade. Suddenly the importance of the CRM goes up for different departments and usage is assured.
How do you avoid CRM implementation failure?
When it comes to selecting the right CRM software for your organization, the difficulty lies not only in the fact that there are many tools and technologies to choose from – users also have to consider deployment and customization options, cost, scalability, and business value. With so many things to consider when choosing a CRM software, there is another important aspect that you have to address – your specific business needs.
Today, one of the biggest mistakes organizations make when deciding on a CRM software is that they are busy evaluating vendors and trying on different functionality, instead of focusing on their own business needs and goals. Below are some useful tips that will help you avoid the most common CRM failures:
Search for a CRM that will work for your business. Do not work with vendors that will force you into one-size-fits-all software
Take time for training. Do not ignore the process underlying your practice
Do not treat your CRM like a magic wand. The tool may be exactly what your business needs, but it is just a tool. A very useful and valuable one, but useless without knowledgeable users and a well-thought business plan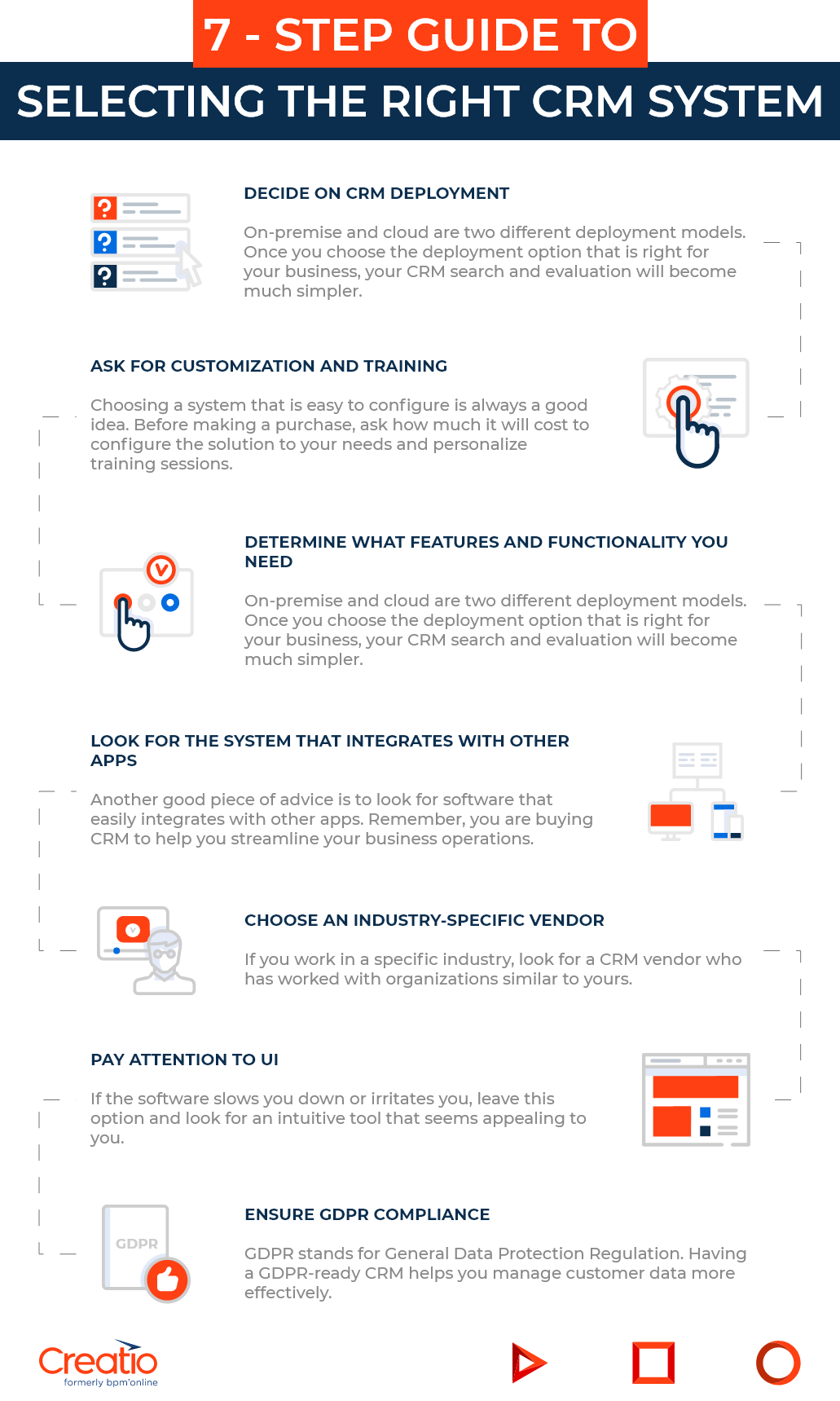 How much does CRM software cost?
The cost of CRM software varies greatly. These days, most CRM vendors use a subscription-based pricing model that can depend on many different factors, such as the number of users and types of features available.
You can generally expect to pay on a per-user or per-month basis. Some CRMs charge a flat monthly fee for a set number of users. However, usually such platforms require extra fees for additional users. Pricing can range depending on your business's requirements as well. If you are not sure that the specific CRM software is right for your organization, but would like to see what it has to offer, you can always ask for a free trial.
Wrapping up
CRM is an integral part of a successful business. No matter the size of your organization, it is always a good idea to determine what your needs are along with your budget to find the right solution. Keep in mind, even though your business in the beginning may not need all the features a CRM offers, it does not mean that your organization will not need more advanced functionality in the future. It is also easy to get caught up in all the sophisticated things that CRM software can do for your organization, but, be cautious. The most important thing when choosing a CRM is to keep it simple. Start small and scale up as your business grows.
Creatio as the best online CRM system
Creatio is the most agile CRM platform for small, midsize, and large enterprises to accelerate sales, marketing, service, and operations. What makes Creatio stand out from the crowd is the fact that it offers both exceptional CRM and BPM capabilities.
Creatio users can leverage out-of-the-box processes that are based on the best practices in marketing, sales and service. Users can build custom business processes to meet their organizations' specific business requirements and manage them accordingly no matter whether those processes are structured or unstructured. Below you can check out other worthy benefits of Creatio CRM.
Explore Creatio functionality to its fullest
Ready to get started?
Implement Creatio CRM to close more deals in the shortest time!
The mission of Creatio is to help companies ACCELERATE!
Creatio is a global business software company leading in the space of business process automation and CRM. The company has been highly recognized as a market leader by key industry analysts. Its intelligent platform accelerates sales, marketing, service and operations for thousands of customers and hundreds of partners worldwide. 
Creatiohas been widely recognized by key industry analysts, receiving multiple awards.