What is e-commerce CRM?
Are you overwhelmed with the task of managing the customer cycle right from lead to sales? Then, you need the best CRM solution that will allow you to view and follow all business activities, including marketing, sales, and service, through a single CRM platform.
There has been a steady growth in e-commerce and mobile shopping over the last few years. For this reason, CRM technology has also seen a significant evolution to help e-commerce entrepreneurs to have a better understanding of their customers and how they can deliver relevant products and services to them.
An e-commerce CRM, therefore, is a software solution aimed at enhancing business relationships by keeping track of such partnerships and sales opportunities in the business. Shortly put, this platform helps to organize customer data.
Benefits of a CRM to your business
Besides organizing customer information and keeping track of potential sales opportunities, CRM systems also come in handy to help improve employee collaboration. Remember, most of the available CRM platforms are cloud-based, meaning they are accessible from anywhere provided one can access stable internet connection. Besides, some of the systems have mobile support feature, which makes them truly accessible from anywhere.
With the help of such systems, all customer information will be appropriately organized and visible thus you can provide your customers with the needed products and services. A CRM platform is beneficial in two-fold: to your online store and the customers.
Check the pricing of Creatio and boost your business on the top right now
Benefits of a CRM to your online store
1
With the best CRM, you are sure to gain some crucial facts about your customers based on the broader analysis performed by the software system. For instance, you can easily trace back all the sales for the last quarter or half year to find out who is making the sales, when customers are buying the products, their average order value, how often they come back, and what they are saying about the business on social media platforms. These details are quite helpful, especially in planning on how to retarget the customers as well as attract ones. If you understand how powerful targeted sales campaigns, optimized sales channels and supercharged conversion channels are, then you must be aware of how crucial sales analytics is.
2
An integrated communication is vital for the success of any business. With a CRM system, the entire team will have access to the available customer data, trends and analytics so that they can communicate in real-time through file sharing as well as reviewing of necessary data from their end.
3
Efficient task management is an integral part of your overall business plan. However, it often happens that project management software and CRM do not merge to be beneficial to other software services. This being the case, CRM software comes in handy allowing you to create real task lists, which would enable team member tagging with due dates and notes. This is vital in improving your effectiveness as a team, since it eradicates the need to use a different software solution for project management.
4
This is a crucial step in determining whether prospects are going to buy from your company or not. With the best CRM software, you can easily access all the necessary marketing steps to be taken to ensure you close on a sale and promote customer loyalty.
5
E-commerce CRM is known perhaps for this main tool. In this case, the CRM culls all sales and customer data to deliver shopping habits, buying trends and even shipping options as well as return data. This way, you can easily tell the products that sell the best and when they do, the buyers and those with the most returns. This enables you to cater your products and offerings to maximize conversion across the different channels while minimizing returns and improving ROI.
6
Most of the available CRM solutions are cloud hosted and can collect all necessary customer data from all sales channels in real time to enable you to be in full control of your sales channels every time. You, in turn, can use the collected data to better connect and market your products to potential prospects based on the trends they have created.
Benefits of using CRM for your business
We have already mentioned that customer relationship management could benefit both the business and its prospects. However, in the case of customers, the impact may not be direct unless you understand and use the CRM system correctly. Here are some of the aspects of CRM that will benefit the customer relationship:
Sales
Apart from tracking business opportunities, a CRM platform also comes in handy to help with assigning, qualifying and converting leads into sales. This way, you can easily follow where the customers are in the buying cycle. Crucial information such as order history, product inventory, and payment history also provides an in-depth insight that calls for the application of a personalized approach to customers.
Factors to consider when choosing the right e-commerce CRM
We have already discussed the benefits of having a CRM solution. However, selecting the most suitable one can be quite challenging considering there are many options available on the market. Regardless of what CRM software vendors say, the truth is that not all available CRMs are equal. In case you are searching for the best e-commerce CRM software, then consider the following factors:
1
What may be deemed as the best-suited CRM today may not necessarily be considered the best option in future. Flexibility and scalability are crucial features to consider ensuring new systems and processes can be adopted as the organization changes over time. This is vital to avoid migration to new systems from time to time when fundamental changes need to be implemented.
2
This is another crucial consideration when choosing the right CRM solution. While cloud-based CRMs are easier and quicker to implement thus offering instant access to the software's features, it takes some time, effort and money to have on-premise CRM functional. However, the on-premise CRM may also be used to realize another set of objectives not covered in cloud-based CRM.
Cloud-based CRM is merely becoming preferable due to their ease of implementation and less demand for manpower.
3
The ease of use of any CRM suite is vital regardless of what the vendors promise out there. You need a CRM with a clean interface and options that are easy to understand. Remember that you intend to accelerate sales with the use of a CRM solution rather than slowing the process down. The system should thus seamlessly integrate with existing systems for easy adoption by employees.
4
Your system of choice should be compatible with the existing software to avoid possible changes to the current system before the new software can work. To mention but a few, the system should be able to integrate with cloud tools such as Dropbox or Google Drive, email servers, and major social media channels.
5
This is the ability of the CRM solution to be accessible from mobile devices and anywhere. Besides being compatible with mobile devices, also consider its ease of access on the go, user-friendliness when using the mobile app, as well as its seamless integration with the office suite.
6
No single generic one-size-fits-all e-commerce CRM works for everyone. It is for this reason that different businesses have different sales-cycles. It is for this reason that customizable CRM software is deemed best as it allows unique features to be added in line with the specific business needs.
7
This one should be determined by your business needs (goals and objectives). You may not need all the features provided by some of the advanced CRM available, and getting one would be waste money, computing resources, and effort. However, you will need to ensure that CRM application of choice allows for the primary level functions like updating and creating a comprehensive customer database and managing customer communications and more. Considering the purpose for which you need the CRM, check out the following features:
Sales forecasting
Multi-language and multi-currency support
Reporting
Sales analysis
Call center support
Customer support tracking
Launching social media and email campaigns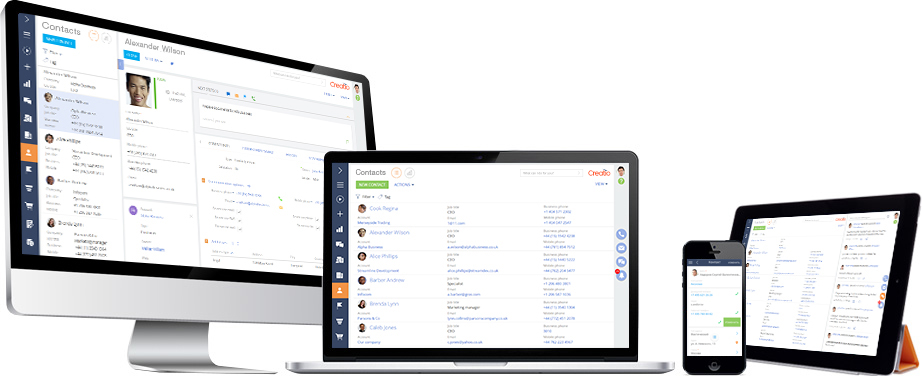 Is Creatio the best e-commerce CRM out there?
Creatio is a powerful CRM solution for marketing, sales and service automation. It is among the top CRM solutions allowing business in managing their customers' lifecycles right from lead generation to sales as well as other ongoing customer services.
The CRM gives entrepreneurs the ability to view all activities (marketing, sales and service) through a single platform to allow marketing specialists create and support ongoing communication with the stakeholders, manage the sales cycle of customers from lead nurturing to repeat customers, and provide customer service tools that are vital for engaging with the customers.
Advantages of Creatio
Can be easily integrated with other applications
The system allows easy configuration, building processes and making changes whenever the company feels like as it grows or changes
Offers a customizable platform that allows safe storage and easy recognition of customer data
Has a user-friendly interface that is easy to navigate hence no need for specialized experts to help get what you need out of the product
Lastly, it is important to note that Creatio offers all the essential features of the best CRM for e-commerce business outlined above. This CRM solution automates the collection of data by integrating with other apps already used in the company, compiling the data to help build essential insights that will guide in proper decision-making.
Increase your customer experience today and empower the sales representatives with the right insights that will help them improve the sales funnel by getting in place the best CRM solution - Creatio.
The choice of the right CRM solution is yours. Hopefully, this post offers all the information you need regarding e-commerce CRM.
Ready to get started? 
Thousands of customers worldwide use Creatio to accelerate their business processes.
The mission of Creatio is to help companies ACCELERATE!
Creatio is a global business software company leading in the space of business process automation and CRM. The company has been highly recognized as a market leader by key industry analysts. Its intelligent platform accelerates sales, marketing, service and operations for thousands of customers and hundreds of partners worldwide. 
Creatio has been widely recognized by key industry analysts, receiving multiple awards.
Сreatio named a Leader in the Gartner Magic Quadrant for Sales Force Automation (2020).

Creatio named a Leader in the Gartner Magic Quadrant for CRM Lead Management (2020)

Creatio has been included in the Gartner Magic Quadrant for the CRM Customer Engagement Center (2020)

Creatio has been included in the Gartner Magic Quadrant for Enterprise Low-Code Application Platforms (2020)

Creatio has been included in the Gartner Magic Quadrant for Intelligent Business Process Management Suites (2019)
Creatio named a Strong Performer in The Forrester Wave™: Digital Process Automation for Wide Deployments, Q1 (2019)

Creatio named a Strong Performer in The Forrester Wave™: Customer Service Solutions, Q2 (2019)

Creatio named a Strong Performer in The Forrester Wave™: CRM Suites, Q4 (2018)

Creatio named a Strong Performer in
The Forrester Wave™: B2B Marketing Automation Platforms, Q4 (2018)

Creatio named a Strong Performer in The Forrester Wave™: Cloud-Based Dynamic Case Management, Q1 (2018)

Creatio named a Strong Performer in The Forrester Wave™: Sales Force Automation Solutions, Q2 (2017)
Creatio has been recognized in the LCAP Technology Value Matrix 2020 by Nucleus Research.

Creatio has been recognized as a Leader in the CRM Technology Value Matrix 2020 by Nucleus Research.
Creatio named a Leader in the Grid® Reports for Business Process Management and CRM | Winter 2021 by G2.
Creatio named a winner of the CRM Watchlist 2020 award led by Paul Greenberg, one of the most influential thought leaders in the CRM industry.
Creatio named a 5-Star Partner Program Award Winner among Cloud Vendors by CRN Magazine for the third consecutive year (2020).
Creatio named a winner of a People's Choice Stevie® Award for Favorite New Products in The 18th Annual American Business Awards® (2020).
Creatio named a Leader in three categories of the 2019 CRM Market Leader Awards - Enterprise CRM, CRM for Midsize Companies and SFA.
Creatio named a winner of a Gold Stevie Award in the Digital Process Automation Solution category in The 17th Annual American Business Awards. (2019).
Creatio named Market Leader in the Summer 2020 Low-Code Development Platforms Customer Success Report.
Creatio named a Top 1 business process management solution by FinancesOnline for the second year in a row (2019).