Modern online CRM for business
The advantages of cloud technology cannot be overrated today. Cloud computing impacts our world on many levels and changes our lives in many ways. IT experts say that cloud-based solutions already became part of our daily life.
There is no denying that cloud computing plays a huge role in our lives – online billing, shopping, and banking are just some basic examples. In 2018, people have implemented the cloud into their routines of communicating, informing, entertaining and even exercising. Now imagine what would happen if business owners consciously used cloud technologies for their own advantage. The truth is that cloud computing offers endless opportunities to businesses of different types and sizes.
There are many benefits to moving your business to the cloud. First, cloud computing gives you the flexibility of connecting to your business anywhere, anytime. And with the growing number of web-enabled devices used in today's business environment, access to your data became much easier. Other common benefits of switching to cloud include reduced IT costs, access to automatic updates, ability to communicate and share information across your team outside of the traditional methods.
So, if you are in search of a trustworthy cloud-based CRM that will take your business to the next level, then you should definitely switch to online CRM.
Online CRM: what it is and how it works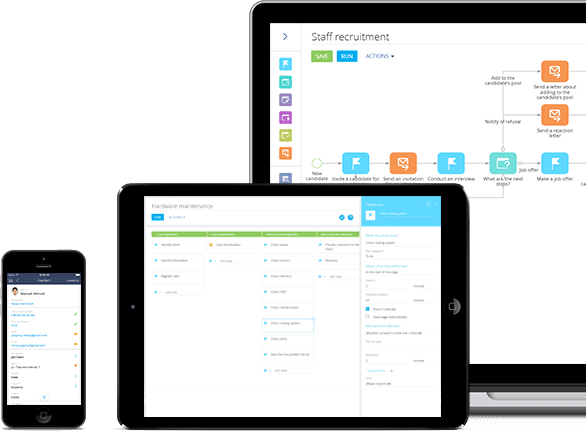 Nowadays, online CRM is a must for any modern business that strives to succeed in the long run. The main purpose of getting a cloud-based CRM is stated as follows: your business grows, so does the number of customers. It is highly recommended that you keep the contacts of all your customers, employees and prospects in a single database that is not only robust but secure as well.
If you have not made the switch to a cloud CRM yet, there is a high chance you are slowing down your business. So, let us delve deeper into the nature of a cloud-based CRM and define what benefits it brings to business.
Simply put, a cloud-based CRM (or online CRM) is a CRM software hosted in the cloud. As a rule, online CRM can be accessed through the Internet so that you and your team can view customer information anytime you need, even on the go by accessing the CRM data through mobile or any other mobile device.
Creatio CRM: tailored to accelerate sales, marketing, service and operations for low cost
Benefits of implementing online CRM
Check out common reasons why the vast majority of businesses switch to cloud-based CRMs.
1
Fast Installation
To successfully adopt a new software, it needs to be easy to get started. Fortunately, with a cloud CRM, installation is not a problem anymore. Since there is no hardware involved, you do not have to set up your own server, and there is low to no maintenance required. You don't need an IT specialist to handle installation – the CRM provider will take care of it all remotely. As long as you have internet connection, getting started with a cloud-based CRM platform is as simple as it can be.
2
Seamless Access
Online CRMs are accessible from anywhere. Most of them are mobile-friendly so that users can access the information about their contacts on the go. The only requirement is Internet connection and your login information to connect. Online CRM is also a lifesaver when it comes to making last-minute sales calls or when you need to work remotely. Cloud CRM ensures your customer data is always at your fingertips.
3
Flexible and Scalable
Online CRMs have the ability to keep up with your business as it grows. The flexible nature of such systems make them irreplaceable tools for businesses of any size. With online CRM in place, it is easy to get more storage space without upgrading your system. Online CRMs are more flexible than those on a local server. This increased flexibility leads to greater productivity and efficiency across the board.
4
Data backup
Cloud CRMs come with a built-in safety net for your data. In addition, cloud-based CRMs provide a fast, easy way to recover the valuable customer data in the event of a power outage or system crash. Overall, cloud computing is the way to go if you need a secure backup of your information.
Creatio as the best online CRM
The system captures all the leads from different marketing channels and centralizes them in one place. Users can then assign these leads to respective team members manually or automate the process with a pre-defined rule. Either way, you save tons of time that you would otherwise have to spend manually gathering the leads in one place. A powerful CRM system also helps you in qualifying the leads and getting those sales ready by verifying all the data, identifying and merging duplicate contacts and more.
A customer's journey from lead to sales conversion is crucial for your business. Creatio CRM uses SFA technology to optimize this process efficiently. The system lets you track the end-to-end customer journey and have complete control over the sales cycle. You can easily automate mundane tasks such as sending repetitive emails, approving papers, etc. This not only saves time, but also boosts efficiency and, in turn, speeds up the sales processes.
Creatio help desk lets you capture customer queries and service requests in one place, providing complete visibility regarding the particular customer's purchase and service history. With its help, you can resolve issues more efficiently. Using the CRM system, you can easily assign service requests to relevant teams and let your customers check the progress on a real-time basis. Effective customer service not only offers a great experience to your customers but also saves time for your service team and makes their job easier.
Ready to get started?
Experience all the benefits of a cloud-based CRM
– implement Creatio products right now!
The mission of Creatio is to help companies ACCELERATE!
Creatio is a global business software company leading in the space of business process automation and CRM. The company has been highly recognized as a market leader by key industry analysts. Its intelligent platform accelerates sales, marketing, service and operations for thousands of customers and hundreds of partners worldwide. 
Creatio has been widely recognized by key industry analysts, receiving multiple awards.