According to helpscout.net, loyal customers are worth up to 10 times as much as their first purchase. Therefore, providing an outstanding customer experience is essential for expanding business operations.
Nowadays, there are many software solutions that can help organizations enhance their relationships with consumers on the market. However, the most popular solution used by corporations for improving and managing customer experience, as well as gaining leads, is CRM systems by far.
CRM stands for "Customer Relationship Management" and refers to all strategies, techniques, tools, and technologies used by enterprises for developing, retaining and acquiring customers. This software ensures that every step of the interaction with consumers goes smoothly and efficiently in order to increase the overall profits.
The software gathers customer data from multiple channels. Hence, CRM stores detailed information on overall purchase history, personal info, and even purchasing behavior patterns.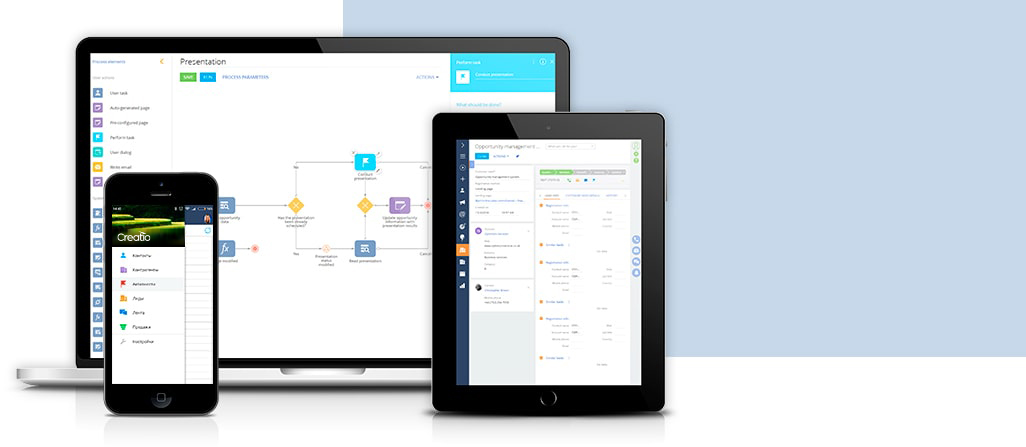 Best CRM products to boost your business in 2020
What does CRM software stand for?
CRM software is a special system with one primary purpose – improving relationships with clients by providing businesses with smart tools to effectively develop a successful strategy. Considering the aforementioned point, it is obvious that the CRM definition includes much more than it seems initially. It's worth noting that implementation of this useful tool can definitely make a huge difference when it comes to standing side by side with some of your biggest competitors.
And the best part is that all of these data are safely stored in a unified CRM database. Therefore, users can easily access and manage a highly important data via one data source.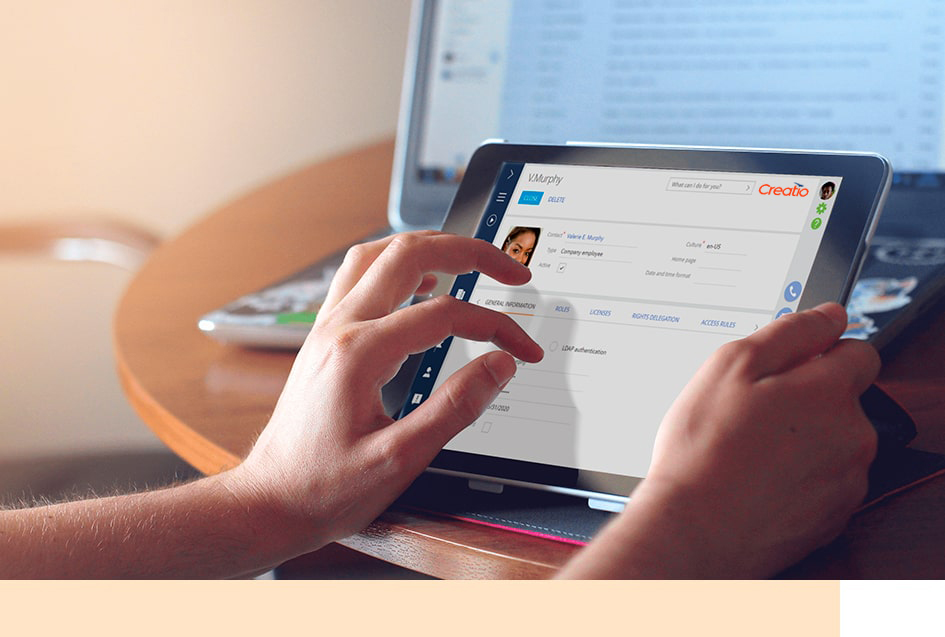 How does CRM work?
CRM systems are usually packed with tracking features that record numerous customer interactions online. In addition, CRM automates routine processes and provides managers with tools that allow for tracking and measuring the company's performance and productivity. However, the business success, as usual, depends on the right CRM strategy.
Proper alignment of the CRM strategy, overall business objectives and customer needs is paramount. Companies should pursue their objectives with the care for their customers and desire to add value by boosting the efficiency of customer interactions. A properly developed CRM strategy results in better customer acquisition, development and retention.
In other words, CRM software can accelerate crucial business operations, such as marketing, service and sales activities, to boost customer experience and loyalty from initial contact to repeat purchases. Since any CRM system is meant to streamline the company workflow, it can easily help businesses to close the gaps between marketing, sales, and customer service departments helping the companies of all sizes to reach their goals at minimal costs.
Boost your marketing, sales and service performance with Creatio!
What are the benefits of the CRM and BPM synergy for business?
Modern times require modern measures for staying afloat and surpassing the competition. Luckily, Business Process Management (BPM) technology in CRM allows organizations to quickly adapt to the changes in the business environment by granting: The immediate access to all the important information, which enables to significantly speed up the workflow.
Tools for effective and easy process modeling, changing and monitoring.
Case management capabilities to manage unstructured processes.
Simplified and transparent work processes from the very first day.
Advanced reporting tools for generating more sales.
Detailed analytics and reports on the team's performance.
Easy information sharing across the company.
Scalability, security, and mobile CRM access.
Advanced tools for better collaboration among departments and with consumers
The functions of a CRM with BPM technology are not limited to the aforementioned capabilities, as the top CRM vendors provide even more sophisticated tools to boost productivity and ensure seamless workflow.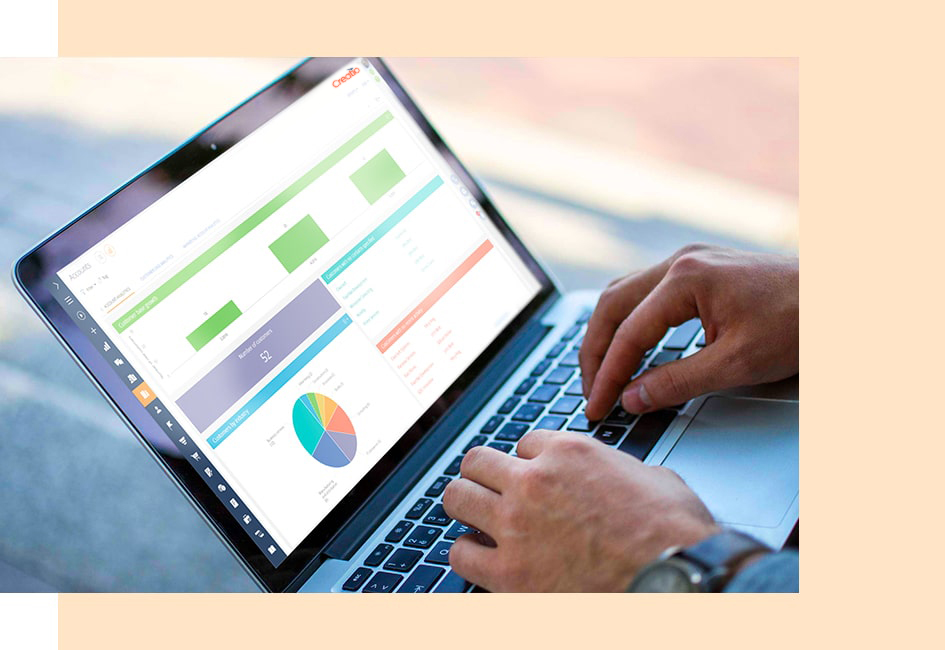 Want to check Creatio CRM pricing?
According to Aberdeen Group, 65% of sales representatives who use mobile CRM have reached their sales quotas, while the same results are noted with only 22% of reps who used a CRM strategy without a mobile approach. Furthermore, the average ROI with CRM systems amounts to $5.60 for every $1 spent (nucleusresearch.com). So when thinking about the importance of a CRM for business, it is obvious that CRM is becoming almost a necessity for developing a strong brand that can withstand all of the market changes.
What does CRM software stand for?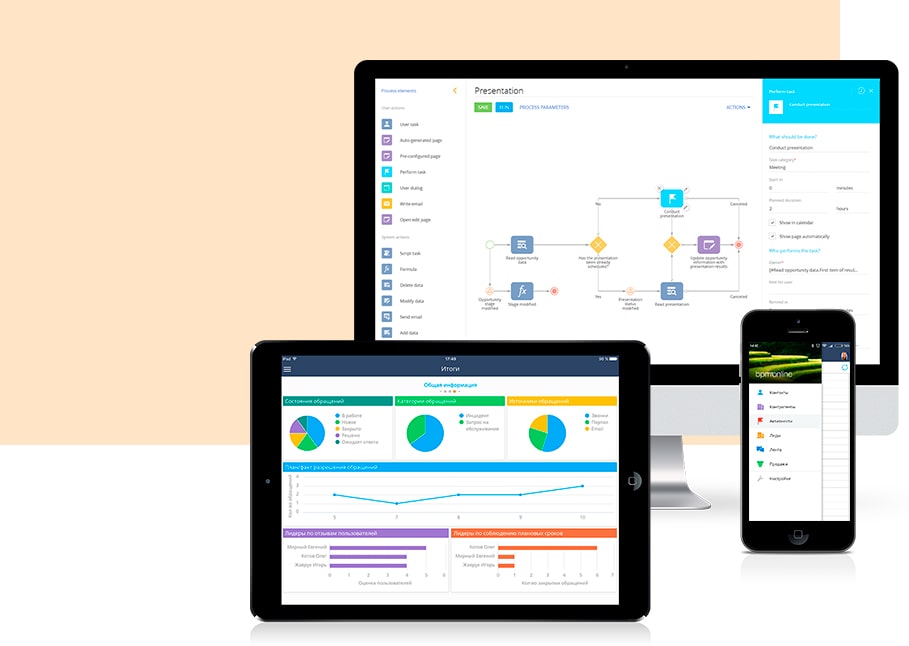 On-premise CRM vs cloud-based CRM
Companies wisely choose the way they deploy CRM system to make sure it meets their business objectives. While the organizations might benefit from on-premise software, they shouldn't dismiss the advantages of cloud CRM deployment.
With on-premise CRM, a company needs to purchase the licenses beforehand. Considering that the software is located on the company's servers, on-premise CRM is a good choice for organizations with a strict security policy, but in such a case, the implementation process takes more time and IT resources. Though, it is buyer's task to ensure the constant maintenance of on-premise system, as vendor has no responsibility for its flawless operation and data security after the implementation stage, the vendors still provide technical support who will deal with the critical issues.
On the other hand, software-as-a-service (SaaS), cloud or on-demand CRM, stores data on the vendor's servers. In this case, the users have the full access to the database all the time wherever they are, and, most importantly, the vendor takes all the responsibility for the seamless operation of the system and provides all the necessary system updates and support. What's important is that cloud-based CRM software is highly scalable, which means that an organization can easily expand its functionality when business requirements grow. The only requirement for cloud system accessibility is a strong internet connection, accompanied by an affordable monthly or annual fee.
Want to learn more about CRM Buyer's Guide?
CRM Processes
For the past few years, the role of Business Process Management (BPM) in CRM has been extended dramatically. In order to remain competitive, companies should be flexible and adapt processes to keep pace with rapidly changing business environment. In the nearest future, we will witness significant growth of CRM solutions that provide process automation features.
CRM & Customer Experience

This year, the corporate focus revolves around customer satisfaction and the best ways to increase their retention, and organizations still fall short of buyers' expectations.

The findings assembled from over 3,000 consumers and 600 executives suggest that there is 35% gap between customers' anticipations and companies' considerations (capgemini.com). While 75% of businesses believe that they are customer-centric, only 30% of the clients agreed with this statement.

Moreover, nearly 9 out of 10 US consumers are ready to pay more to ensure a better purchasing experience (helpscout.ne). Thus, CRM can help to prevent the loss of customers by enhancing their total experience and relations with the brand. CRM software for customer service management helps improve service quality, increase customer satisfaction and finally achieve a better customer experience.

The role of CRM in Marketing

A good CRM system is capable to essentially improve and expand the capabilities of a marketing team. Besides the processes automation, it helps to reach the company's target audience in a more effective and personalized manner, which allows marketers to be ready for constantly changing customer behavior and identify possible strategy gaps before they arise.

Creatio marketing is a multichannel marketing platform to orchestrate customer journeys and accelerate lead-to-revenue, which offers the following tools:

360° customer view
Collaboration tools
Business process management
Lead management
Document flow automation
Knowledge management
Mobile app
Analytics
Opportunity management
Out-of-the-box process for large sales
Orders and invoices
Sales forecasting
Contract management
Product catalogue management
Project management

How CRM helps deliver an exceptional customer service

Creatio service is an intelligent service management platform to accelerate service delivery and customer delight, which provides the following capabilities:

Unified customer database
Omnichannel communications
Contact center
Business process management
Request management
Problem management
Change management
Release management
Service catalogue
Service level management
Knowledge management
Should Your Business Use CRM?
Regardless the size of your business, CRM provides consistency and enables better decision making. Even if your business is a startup, and you have a small customer base, CRM can function as a management software that gradually increases the value of your organization..
All in all, CRM system is a strategic tool that will mark the future of your business. Businesses already recognized the potential CRM can offer to businesses, especially regarding customer satisfaction. Therefore, there is no question whether a business should apply a CRM system because it's only a matter of time when you will have to incorporate this system if you wish to keep up with market demands.
Creatio offers a number of various editions and pricing, which allows you to select the edition that best fits your business model.
Read more about CRM systems:
Accelerate you marketing, sales and service with Creatio
Creatio has been widely recognized by key industry
analysts, receiving multiple awards
Ready to get started?
Creatio offers a number of various editions and pricing, which allows you to select the edition that best fits your business model.