Main reason to look for Appian alternative
Appian is a renowned provider of business process management and low-code platform. It allows many organizations to rapidly develop apps for their business requirements.
Appian customers mention a lot of different reasons why Appian is not the best option to achieve desired outcomes and accelerate app development, among which are the lack of proper documentation, inability to easily configure business processes on the go, bulky user interface, and inability to manage big volumes of data.
Creatio BPM and low-code platform as the best Appian substitution
Being the top vendor in business process management and CRM market, Creatio provides a powerful BPM and low-code platform with out-of-the-box solutions and templates to accelerate change and alignment.
The top differentiators of the solution include intelligent technologies (AI and ML) to automate the processes, thereby increasing operational efficiency and overall performance; out-of-the-box solutions for marketing, sales and service backed by the powerful BPM platform; low-code technology that enables organizations to accelerate development with little to no coding.
Studio Creatio is a highly scalable solution, which allows for adding or removing any features with the growth of your organization. Its intuitive and easy-to-use interface reduces the time required for onboarding and accelerates user adoption. The system extensive integration capabilities provide users with the ability to integrate Creatio with almost any third-party application, empowering it with even more capabilities.
Thousands of businesses worldwide use Creatio products to help manage customer-facing processes and deliver an amazing customer experience
Target market
Midsized and large businesses
Midsized businesses
Trial
14 days
30 days
Monthly price per user
$25-$50 per user per month
$75 per user per month
Mobile app
iOS, Android, Windows
iOS, Android
Customer support

Online
Business hours
24/7 (live rep)

API
+ open
+ open
Deployment
Training

Documentation
Webinars
Live online
In person

Documentation
Webinars
Live online
In person

Customization
+ free
+
Capterra rating
5/5
4/5
G2 Crowd rating
4.7/5
4.4/5
Software Advice rating
5/5
4/5
TRY IT FOR FREE
Benefits of Studio Creatio
Studio Creatio features powerful business process management and case management tools that provide users with the ability to manage structured and unstructured processes of any complexity. The Process Designer is intuitive, and no tech skills are required to create or alter any process. Dynamic processes are easy to manage thanks to the drag'n'drop technology: users are able to effortlessly add or remove the stages or steps as well as change the stages sequence.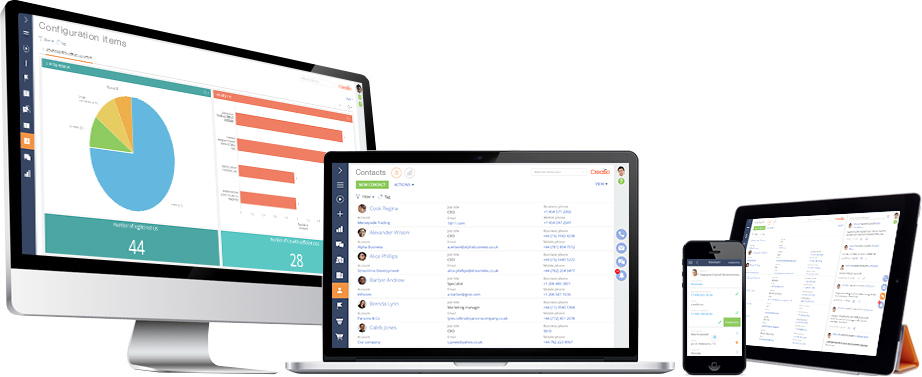 Creatio provides a unified ecosystem of business apps – Marketplace Creatio, which includes:
pre-built connectors to integrate Creatio with 3rd party applications and accelerate productivity.
ready-to-use apps to extend the functionality of Creatio products
out-of-the-box solutions that deliver task-specific or industry-specific features and capabilities.
Marketplace Creatio helps accelerate productivity and benefit from extended Creatio capabilities.
By deploying Studio Creatio, customers get a powerful system with out-of-the-box capabilities and processes to accelerate development, integration and implementation.
Take advantage of the extensive Studio Creatio capabilities right away!