Top reasons to consider HubSpot alternative
HubSpot is a smart and easy to use CRM solution that offers all the basic features for business automation in the initial stages. What makes HubSpot CRM stand apart from all the other CRMs is the fact that it is completely free of charge. The solution allows sales teams to get started quickly without making much of a change in their existing workflow. HubSpot CRM is considered the perfect choice for small businesses that are not using their existing CRM systems to their fullest potential.
Despite all the benefits Hubspot offers, their CRM is not the only tree in the forest. In today's fast changing business environment companies continue to search for effective HubSpot alternatives that will provide them with more features to accelerate business growth and improve business performance.
The primary reason why businesses switch to other CRM solutions is that HubSpot is not robust enough to handle complex sales processes. The solution is very limited in its customization, and it forces users to pay for the Sales Pro, which is costly. Getting advanced functions requires the installation of several other tools, such as HubSpot CMS, MAP & Marketing. What's more, HubSpot software does not provide any BI analytic tools making the content performance tracking much more difficult.
Creatio intelligent CRM platform as the best HubSpot substitution
Creatio is the premium vendor of the agile CRM platform for marketing, sales and service. The core value of Creatio products is the agility to change business processes faster than ever. The intelligent business process management (BPM) engine provides clients with all the necessary tools for the full cycle of process management, including design, execution, monitoring and analysis stages.
Creatio delivers end-to-end processes to manage the complete customer journey – from lead to order to continued service excellence. With Creatio, managing every stage of the customer interactions is easier than ever before!
Creatio CRM is the ideal choice for the businesses of any size. With its powerful integration capabilities, integrating the system with almost any third-party system is not a problem anymore. In addition, Creatio interface is intuitive and responsive what makes it pleasant and enjoyable to use.
Creatio enables companies from all over the world to gain the agility to change the processes in the CRM faster than ever before!
Target market
Midsized and large businesses
Small businesses
Trial
14 days
Free CRM
Monthly price per user
$25-$50 per user per month
HubSpot CRM is free, until you want to upgrade and add more features.
Single platform for sales, marketing and service
+
-
Mobile app
iOS, Android, Windows
iOS, Android, Windows
Customer support

Online
Business hours
24/7 (live rep)

Online
Business hours
24/7 (live rep)

API
+ open
-
Deployment
Training

Documentation
Webinars
Live online
In person

Documentation
Webinars
Live online
In person

Customization
+ free
-
Capterra rating
5/5
4.5/5
G2 Crowd rating
4.7/5
4.2/5
Software Advice rating
5/5
4.5/5
TRY IT FOR FREE
HUBSPOT WEBSITE
Benefits of Studio Creatio
Creatio offers three seamlessly integrated products for marketing, sales and service on one platform that can be used separately or in a bundle. Prebuilt best practice processes that Creatio CRM offers guide users through the most efficient steps to achieve better business results within the shortest possible time. Another great benefit is that users have access to all the necessary information from any mobile device be it laptop, smartphone or tablet.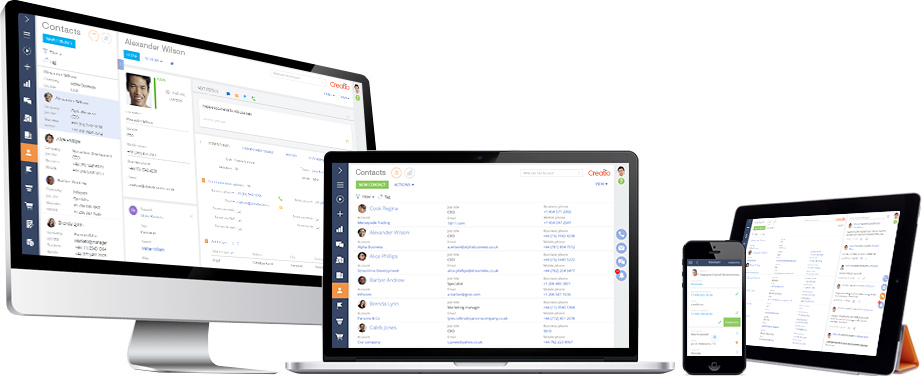 Creatio provides its customers with a unified ecosystem of top-notch business applications – marketplace Creatio, which includes:
Pre-built connectors to integrate the software with third party apps and thus accelerate productivity.
Ready-to-use add-ons designed to extend the overall functionality of Creatio products.
Out-of-the-box solutions aimed at delivering industry-specific features.
Marketplace Creatio accelerates business productivity by extending the platform features.
Creatio CRM also features 360 customer view, and smart data management capabilities that include intelligent enrichment, deduplication, etc. Extensive collaboration tools allow for better communication with the customers and leads, as well as within the team, which drives enhanced operational efficiency. Modern analytic tools allow users to identify the bottlenecks in business processes. With the help of easily customizable dashboards, it is possible to easily track all the important indicators and compare them to the ones of the previous week, month or year.
With Creatio products users can build and automate the most complex business processes in just a few clicks