CRM strategy: how it can benefit your business
CRM stands for customer relationship management and entails an organization's relationship with individual people, such as customers, colleagues, suppliers, and service agents. CRM can:
Serve as a technology product to record, report, and analyze an organization's interactions with the users;
Be used as a strategy, which is the organization's philosophy about how relationships with prospective customers should be managed;
Be considered as a process adopted by an organization to nurture and manage relationships between the organization and users.
Therefore, CRM is considered the best way through which a business deepens its relationship with other users like customers, service users, suppliers, partners, and colleagues since your company looks at every transaction through the eyes of the other users. It is through this view that an organization can deliver the best customer experience and promote customer loyalty. Learn more about CRM at What is CRM page.
CRM has become a crucial part of any organization in the modern business world since it helps with forging good relationship and keeping track of prospects and customers for more customer acquisition and retention. A CRM system brings everything into one place for easy access – a single, customizable dashboard to show your customers' history of interaction, the status of their orders, or any other outstanding service issue. Due to this relevance in business, CRM is predicted to become the single largest revenue area of spending on enterprise software by 2021. If you are looking forward to running a successful and lasting business, then you must be aware you need a strategy for the future.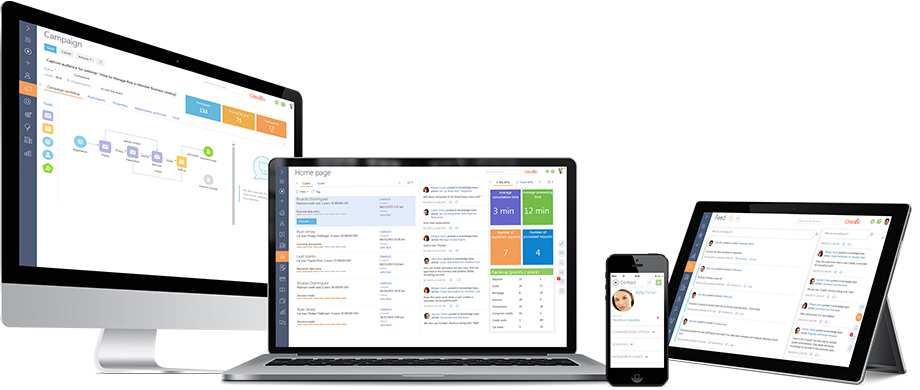 How different businesses can benefit from CRM
Initially, CRM was mainly considered as a sales and marketing tool. Fast-forward, it has become a relevant and beneficial tool in many other areas of business, including customer support, supply chain, human resource, and partner management among others. Let's have a quickie preview on how some of these functions benefit from using CRM:
1
The sales managers can use CRM to understand their sales pipeline better by accessing reliable information about the progress of team members in achieving the set sales targets, as well as monitoring how different sales teams, campaigns, and products are performing. On the other hand, sales reps benefit from CRM as it facilitates reduced admin, a deeper understanding of the customers, and the opportunity to spend more time doing more important things like selling instead of inputting data.
2
Customer relationship management helps the marketing personnel to get a clear visibility over every lead or opportunity and map out the entire customer journey from inquiry to sale. This gives them a better understanding of the sales pipeline and more of what is expected. Generally, this makes forecasting simpler and more accurate.
3
It is quite common to have customers raising their concerns in one channel, but then decide to switch to another to resolve it in private. In such instances, it is highly likely that communication can be missed or lost in the flood of information if a comprehensive platform for customer interaction is not in place. This may further complicate case resolution and result in unsatisfactory response to a valued customer or prospect.
4
By using CRM, the supply chain, partner management, and procurement teams can track meetings with suppliers and partners, add useful notes, record requests, and schedule follow-ups to stay on top of the expected next step. Through reporting, the teams can compare the efficiency of suppliers, hence managing their entire supply chain efficiently.
5
CRM becomes relevant in HR function by accelerating the on-boarding process, automating the process of managing shortlisted candidates, analyzing resourcing needs and identifying skills gaps in the organization as well as supporting the pursuit of workforce retention targets.
Creatio is the best solution to improve relationships with your customers.
It is clear that almost all organizational functions can benefit from using CRM. The convenience of consolidating all the streams of data from customer service staff, sales reps, marketers, and social media, then translating them into actionable business information is critical. Employing a CRM system will be a great resource to help you in managing all the streams of data across various channels without losing track, while giving marketing, sales, and service an integrated view.
How to develop a CRM strategy that best fits your organization
Since the introduction of advanced CRM, business organizations are finally in a position to place customers on the forefront. Besides, CRM has been shown to increase revenue per salesperson by averagely 41%. Unfortunately, a whopping 43% of businesses using CRM fail to use even half of their systems correctly.
We have summed up some essential tips to help you in developing and implementing a winning CRM strategy:
1. Set a destination

The ultimate goal of using a CRM in your organization is to assist your company in achieving its goals. The first step in implementing your CRM strategy, therefore, should be identifying those specific goals. It is only by knowing what you want to accomplish that you can determine how you plan on reaching the objectives. Design a flexible plan, breaking down your goals into smaller and achievable objectives, then map out how and when you plan to complete the steps.

2. Prioritize your customers

It is understandable that you would wish to treat all your customers equally. However, if you need to be successful in your business, you must be willing to prioritize your customers depending on how profitable they are or likely to be. For instance, repeat customers should be considered more valuable since they averagely spend double what new customers do. The criteria for identifying the value of a customer are open for you to determine the traits you look for in a buyer.

3. Regularly communicate with your employees

While implementing a CRM strategy, your employees from different departments need to be involved in one way or the other. After all, they are the ones to determine whether or not your goals are met. At every step of the strategic process, your staff needs to be included to help them internalize the objectives and give them personal ownership over the direction the company is taking.

4. Take your time

Many entrepreneurs often feel the pressure to initiate changes any time a specific aspect of the business is not working as it should. The problem with this mentality is that such changes may negatively impact on the employees' productivity. For this reason, in case of any needed changes, make them gradually.

5. Start tracking your customers before the first contact

This should be taken seriously, lest you lose your potential customers right at the very first step. With a CRM system, it is possible to capture data at every stage of the customer journey. This way, you can use the CRM system to catalog the kind of information the prospects are sharing across social media channels and more to give you an edge in understanding what exactly they want, and what they may wish to in future.

6. Sync everything to your CRM

This is in case you are using external applications. However, if you are using a CRM with built-in programs to mimic the functionality of other applications, the system will automatically sync to allow notes or appointments made throughout the system easily tracked through the rest of the CRO system. A good CRM system should, therefore, automatically import all client-related appointments from the calendar, update on cancellations and any other change, and send reminders whenever necessary. Through syncing of everything together, you are guaranteed of using your CRM to its full potential.

7. Evaluate and improve

Businesses tend to have own unique challenges, and for that reason, no single CRM strategy will accurately account for every possibility. Once you understand this, you will be able to re-evaluate your approach whenever you think something is not working as expected. Identifying the weaknesses in your CRM will help you to plan a better strategy that will boost your business to success.
The hype about CRM is high in the modern business world, but you need to consider it as nothing more than just a highly-advanced tool. You will only see the full potential of such a tool if only it is combined with a detailed, but flexible business strategy. No matter the time and effort it will take, getting your CRM strategy right will have the potential of perfecting your relationship with the people that keep you in business.
While these tips must have come in handy, you also need to bear in mind that a CRM strategy can't be developed in isolation; instead, it should be relevant and linked to the overall organizational strategy and build on existing sales and marketing strategies already in use.
Creatio CRM
As a CRM software solution, Creatio offers three products to accelerate sales, marketing, and service:
Creatio offers holistic multichannel marketing management powered by out-of-the-box best practice processes to deliver excellence in demand generation, all through to lead nurturing to the final handoff to sales.
This product drives efficient sales processes and enables total control over the complete customer journey, right from lead generation to repeat customers. It employs out-of-the-box processes to manage the entire sales cycle.
It is a cloud application with out-of-the-box processes to adequately manage the service cycle across different communication channels.
Implement your business strategy using the best up-to-date Creatio CRM system
Features of Creatio
Creatio comes with many features to make it an all-round CRM software solution for mid-sized and large enterprises. To mention a few:
Problem management

This feature enables easy storage of identified problems in the infrastructure and service processes in Creatio ITIL service. This is vital in preventing recurring mass incidents and proactively informing customers of known errors.

Contact center

This makes it easy for users to manage their daily tasks more effectively using a pre-configured single window interface. Agents, on the other hand, find it easy to manage case queues, share information via ESN, make multiuser communications, and monitor their performance in a single view using the agent home feature.

Opportunity management

You can manage all opportunities in Sales Creatio using out-of-the-box business process, define tactics for the opportunities, identify key decision makers, generate sales forecasts, and track your competitors while analyzing their strengths and weaknesses.

Lead generation

Sales Creatio offers the right tools for tracking and capturing leads across multiple sources. You can, therefore add leads from different sources into a single database with only a few clicks. Sales Creatio then verifies the data, create new contacts and finally guides you through the lead management process

Website behavior tracking

Marketing Creatio entails tracking of visitors' activities while they visit the company's website. The visitor's web browser, thus, gathers all the information including pages visited, time spent on the site and website paths. The information gathered is then sent to Marketing Creatio to be added to the leads' profile.

360-degree customer view

A complete view of customers is important to enable you to understand more about the customers, their needs and expectations. Information about every customer is stored including company size, industry, geography, contacts' career history, and noteworthy events in Marketing Creatio. The information can be used later to build efficient and personalized communications with the customers.
In the modern business world, B2B buyers don't need you to tell them what they need anymore. This is because the Internet has given them the opportunity to research online for absolutely whatever they want. What they need is to be treated right as individuals. They need to feel like they mean something by doing business with you and that you care about them.
Since the introduction of CRM systems, B2B businesses have taken advantage of the software solutions to win potential customers as well as retain the existing ones. Customers that feel valued become happy and end up becoming loyal repeat customers further translating into improved bottom lines. However, the effectiveness of a CRM system needs you to have a CRM strategy in place serve as a guide at every stage of the way, and this can make the difference in whether you will gain more customers and retain the existing ones.
Ready to get started?
Creatio is ready to implement your goals right now!
Сreatio named a Leader in the Gartner Magic Quadrant for Sales Force Automation (2021).

Creatio named a Leader in the Gartner Magic Quadrant for B2B Marketing Automation Platforms (2021)

Creatio has been included in the Gartner Magic Quadrant for the CRM Customer Engagement Center (2020)

Creatio has been included in the Gartner Magic Quadrant for Enterprise Low-Code Application Platforms (2021)

Creatio has been included in the Gartner Magic Quadrant for Intelligent Business Process Management Suites (2019)
Creatio named a Strong Performer in The Forrester Wave™: Digital Process Automation for Wide Deployments, Q1 (2019)

Creatio named a Strong Performer in The Forrester Wave™: Customer Service Solutions, Q2 (2019)

Creatio named a Strong Performer in The Forrester Wave™: CRM Suites, Q4 (2018)

Creatio named a Strong Performer in
The Forrester Wave™: B2B Marketing Automation Platforms, Q4 (2018)

Creatio named a Strong Performer in The Forrester Wave™: Cloud-Based Dynamic Case Management, Q1 (2018)

Creatio named a Strong Performer in The Forrester Wave™: Sales Force Automation Solutions, Q2 (2017)
Creatio has been recognized in the LCAP Technology Value Matrix 2020 by Nucleus Research.

Creatio has been recognized as a Leader in the CRM Technology Value Matrix 2020 by Nucleus Research.
Creatio named a Leader in the Grid® Reports for Business Process Management and CRM | Winter 2021 by G2.
Creatio named a winner of the CRM Watchlist 2020 award led by Paul Greenberg, one of the most influential thought leaders in the CRM industry.
Creatio named a 5-Star Partner Program Award Winner among Cloud Vendors by CRN Magazine for the third consecutive year (2020).
Creatio named a winner of a People's Choice Stevie® Award for Favorite New Products in The 18th Annual American Business Awards® (2020).
Creatio named a Leader in three categories of the 2019 CRM Market Leader Awards - Enterprise CRM, CRM for Midsize Companies and SFA.
Creatio named a winner of a Gold Stevie Award in the Digital Process Automation Solution category in The 17th Annual American Business Awards. (2019).
Creatio named Market Leader in the Summer 2020 Low-Code Development Platforms Customer Success Report.
Creatio named a Top 1 business process management solution by FinancesOnline for the second year in a row (2019).